Salma The Free Spirit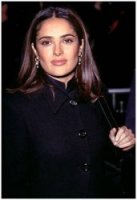 The star from Coatzacoalcos has plenty of the attitude that young Mexicans call very cool
Salma Hayek's hometown, the torrid Gulf Coast port of Coatzacoalcos, is one of Mexico's best and worst places to grow up. A refining center for the state-owned oil monopoly, Petroleos de Mexico (Pemex), it has traditionally boasted a strong economy and a sturdy middle class. Hayek recalls a sun-splashed childhood of coconut milk shakes and sweet pork tacos, and a family affluent enough to send her to school in the U.S. But she also remembers how Pemex defiled the city: chemical spills are still as routine as tropical storms. The tarred local beaches are often closed--one reason kids like Hayek attended the endless parade of movie matinees that nurtured her love of film. The contrasting views of home are still embedded in her character.
"I'm proud to be Mexican, but we've been lied to a bit too often by our government," Hayek says. "It's made me realize that this system can sell people, especially women, a lot of dreams they never get."
Obscure Coatzacoalcos (current pop.: 222,000) helped foster Hayek's distrust of Mexico's authoritarian order, but it also gave her the means and the education that helped her break away and become the country's pre-eminent youth icon. Her almond-eyed beauty--her father is Lebanese and her mother Mexican--as well as her talent, her drive and an impressive array of professional smarts have been the tools that turned a Mexican soap-opera actress into one of Hollywood's hottest new leading ladies--a true child of cross-cultural, cross-border exchange. At last month's Guadalajara Film Festival, where she attended the Latin American premiere of her film Fools Rush In, Hayek talked with TIME about her sudden binational celebrity--and how she hopes to use it. "When I got to Hollywood, being Mexican was considered so uncool," she said, kicking off her high heels and propping her feet on a table. "If I have my way, that's going to change."
Hayek has plenty of the defiant attitude that Mexican youngsters call padre--very cool. She went to a Roman Catholic boarding school in Louisiana, but the nuns tossed her out as a teen for playing pranks. She then went to Mexico City to study international relations and drama at the Universidad Iberoamericana, and in 1989 was discovered by a telenovela (soap opera) producer from the Televisa studios. She fast became one of the country's biggest stars, but the frivolous dramas soon bored her stiff. In 1991 she stunned fans by packing up once again for the U.S., where she scrabbled on the margins of the film world for three years, hustling bit parts and polishing her English at Shakespearean workshops.
Hayek paid her Tinseltown dues. She endured the ethnic roles (a Latina walk-on in 1994's Mi Vida Loca, the campy vampiress she played in last year's From Dusk Till Dawn) and the sexism. "Men running the show in Los Angeles can be just as chauvinistic as the machos back in Mexico," she says. But teaming up with Antonio Banderas in the 1995 action flick Desperado led to better parts: producers admired Hayek's sexiness, to be sure, but also her intelligent screen presence. Fools Rush In, a cross-culture romance about a Mexican American who becomes pregnant after a fling with a yuppie, is her first starring role in a major U.S. studio film. Hayek liked the script in part because "in the end the white guy learns Mexican family values."
Last month Hayek shone among Hollywood's elite at the Academy Awards, presenting a best-song nominee. Days earlier, she beat out Madonna to win the role of the enigmatic Mexican artist Frida Kahlo--in the Trimark Pictures film Frida, which starts shooting next fall.
But Hayek is still committed to making films back home. Three years ago, she offered up her finest performance in Jorge Fons' El Callejon de los Milagros (Miracle Alley), about the various domestic dramas of a working-class Mexico City neighborhood. Hayek won international acclaim as a barrio sweetheart turned prostitute. She says she was drawn to the film for the frank mirror it held up to Mexican society. "I want to support anyone who has the b___s to make films like this in Mexico," she says.
Hayek is aware of her popular status as a standard-bearer of the NAFTA generation and her image as a cigar-smoking free spirit, but it is one role she is uncomfortable with. "I don't think I represent them as much as I'm just part of them," she says. "We shouldn't be bitter toward Mexico: our generation should be about having the choices our parents didn't have, whether it's politics or movies."
BY TIM PADGETT