Paint Lopez into Kahlo biopic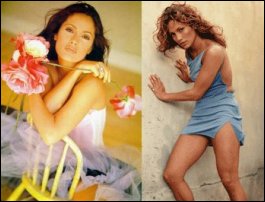 By Michael Fleming
Source: Variety.com
NEW YORK (Variety) - Jennifer Lopez, who launched her star playing one Latina icon in "Selena," is poised to play another -- Mexican painter Frida Kahlo.
Lopez is circling a Kahlo biopic that Luis Valdez will direct from his own script, with Francis Ford Coppola executive producing for United Artists, MGM's newly relaunched arthouse banner. No deal has been made, but sources said the plan is for Lopez to make the movie in early 2001.
That puts Lopez in close brush with a Miramax film about the painter, which has Salma Hayek starring, from a script most recently drafted by Rodrigo Garcia ("Things You Can Tell Just By Looking At Her"). Though Miramax would not confirm it, sources say the studio is in serious talks with director Andrucha Waddington, who most recently helmed the Cannes hit "Me, You, Them," and was first assistant director on "Central Station" for Walter Salles, the helmer who would have directed Hayek in the Frida film had he not been obligated to helm another for that picture's producer, Arthur Cohn.
Neither United Artists nor Coppola's Zoetrope had much to say about its Kahlo picture. The understanding is that Valdez, whose films include "La Bamba" and "Zoot Suit," worked from the book "The Two Fridas." The filmmaker has been trying for a decade to bring the painter to the big screen. He nearly got there back in 1991, only to see Kahlo get KO'd by New Line after protests ensued when the role went to a non-Latina, Laura San Giacomo. Madonna also was once deemed a probable for the role, but got the same heated response.
Neither Lopez nor Hayek has that problem, but while both would likely work below market price, the competitive situation raises the obvious question: like Kahlo's paintings, will one end up on the canvas?
Lopez, who opens this week in the New Line thriller "The Cell," follows with a comic turn alongside Matthew McConaughey in "The Wedding Planner" and stars in the drama "Angel Eyes."