Salma Hayek has a unique sense of humor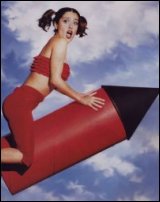 BEVERLY HILLS -- Salma Hayek insists she has a sense of humor. It's just not the same sense of humor as Friends star Matthew Perry who romances her in the comedy Fools Rush In. And therein lies the problem. Hayek was quoted in a recent interview saying Perry was a jerk. He retaliated by insisting English is not her first language so she was probably trying to give him a compliment. Hayek has a different explanation. "In the interview, I said the character that Matthew plays in the film is a jerk. Then I pointed out that Matthew's real father (John Bennett Perry) plays his father in the film. I added that was perfect casting.
"The reporter skipped from my saying Matthew's character was a jerk to my saying it was perfect casting." That's not to say Hayek and Perry didn't have their rough moments. "We were filming in Las Vegas. Even for the night shoots, it was unbearably hot. Matthew loves to tell knock-knock jokes. "I'd never heard those kind of jokes but he can be pretty persistent. It got annoying after a while. "Just because I didn't like his jokes doesn't mean I didn't like him.
"We gave each other a hard time but that's par for being friends and co-wokers." Hayek quickly adds that she and Perry are actually "more than friends. We're neighbors. He lives four houses away from me. "I see him every day on the way to work. It would be foolish of me to make an enemy of him. He could come over and stomp all over my flowerbeds." Hayek concedes the feuding scenario is just the latest in a series of rumors that greeted her screen pairing with Friends' Chandler Bing. "I also got accused of taking Matt away from Julia Roberts. There were all these rumors that he and I were having a heated affair in Las Vegas and that's what caused Julia to walk out on him. "I think the reality is that Matthew and I are the first two people making a romantic comedy who didn't actually have a bit of a thing, so people had to make up stories about us. "They had to assume we were enemies if we weren't lovers." Hayek admits it would have been a bit of a boon had there been some off-camera sparks between her and Perry. "I haven't dated seriously in so long that I'm afraid I've forgotten how."
Since she left her native Mexico in 1990 to pursue a film career in Hollywood, Hayek has been too busy in front of the cameras to have a consuming private life. A cameo role on the cable TV series Dream On led to a recurring role on Sinbad and eventually to a string of films including Mi Vida Loca, From Dusk To Dawn, Desperado and Fled. She just completed filming a version of The Hunchback of Notre Dame for cable TV in which she plays the gypsy Esmeralda opposite Mandy Patinkin's Quasimodo. Hayek has pursued her role in Fools Rush In for five years. "The moment I read it, I knew I had to do the part. It's a film that really knows the soul of a Latino woman. It's based on a true story of a Mexican woman and an American man who got married because she was pregnant." The film opens Feb. 14. "It's honest and gritty as well as funny and romantic and there are very few of those kind of roles out there for Latino women." Before Hayek came to America, she was a major soap opera star in Mexico.