Hayek and Mighty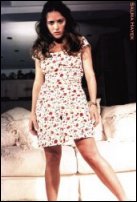 'The Faculty' star Salma Hayek reveals that her Mexican heritage almost ended her career before it began
by Liane Bonin
For moviegoers,1999 may be the year of Mexican Spice -- if Salma Hayek has anything to say about it. The actress is following up her roles in "The Faculty" (now in theaters) and "54" with Kevin Smith's "Dogma" and "The Wild, Wild West." (She also has a biopic about the artist Frida Kahlo waiting in the wings.) But things weren't always going so well for the raven-haired bombshell. Hayak says that following her starring role in 1995's "Desperado," her Hollywood career practically flat-lined due to her south-of-the-border citizenship.
"I was naive," says Hayek. "I thought when I did 'Desperado,' I'd done it. I was the leading lady in a studio film with Antonio Banderas, and the film did great. I had it made, right? Then I heard, 'Yeah, but that was a Mexican part, and you're Mexican, and there are no leading-lady roles for Mexicans, so sorry, go back. When we get another Mexican part, we'll give it to you.'"
Ever resourceful, Hayek was able to work her way into the spotlight using her natural assets, albeit reluctantly. "I got an award for best body that I didn't pick up because I was too embarrassed," says Hayek, who was chosen as one of the 50 most beautiful people by People magazine in 1996. But the usually outspoken actress is coy when it comes to working her curves. "Things like that just reassure me as an actress that I've acted the part of the girl with a very good body, because I don't have one. It's all in my acting." If that's the case, Motion Picture Academy take note: The woman deserves an Oscar.