Salma Hayek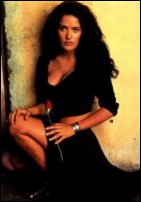 Interviewer: Lesley O'Toole

Magazine: Empire Magazine
Hollywood publicists are famous for inventing newsworthy anecdotes to accrue column inches for their would-be-star clients. Yet Mexican-born beauty Salma Hayek's discovery by Robert Rodriguez--and subsequent casting in Desperado--sounds so implausible, no publicist would every have presumed to pull it off.
"I went to see El Mariachi," explains Hayek, her brown eyes growing even bigger. "I thought it was so great, new and brilliant. I was driving home thinking how much I'd love to meet Robert Rodriguez, because he's a genius and he's part Mexican. So I went home, went to bed, and was woken by the phone. It was Elizabeth, Robert's wife, saying, 'My husband would like to meet you...'"

Rodriguez, it turns out, had been at home indulging in a spot of channel-surfing. He had stumbled upon Hayek being interviewed on a Spanish language cable station. She finishes the tale...

"He turned to his wife and said, 'Look at this girl. She'd be great for Desperado. Will you find her?' We had a meeting and the rest is history. It's like a Hollywood dream come true.

Talking to Empire at a swank LA hotel, Hayek displays all the star attributes that make this tale less of a surprise than she might think; she's gorgeous, talented, bright, funny and charming. Already a legend in her home country, thanks to a role in its hugely popular daytime soap Teresa, she has also starred in El Callejon De Los Milagros (The Alley Of The Miracles), Mexico's most successful film ever and its entry in the 1996 Academy Awards' Best Foreign Film category. Today, she remains unintimidated by the hordes of media types who have already designated her 1996's Big Thing.

They could be right if Hayek's achievements in 1995 are anything to go by. After adding Desperado to a CV that already lists a part in Allison Anders' acclaimed Mi Vida Loca (1993), Hayek considered Rodriguez's offer of a cameo in Four Rooms as a showgirl who gets friendly with a pole. However, sticking to her original stipulation of "no nudity, no snakes," her first reaction was to refuse.

"I said to Robert, 'I've never danced and you want me to wear a bikini?' He said it was a favour and , 'You have to be in every movie I make. You're my good luck charm.'"

Hayek took the part, showing Elizabeth Berkley a thing or two about sex appeal in the process. When Rodriguez showed her scene to his mate, Quentin Tarantino, he was so impressed he immediately wrote Hayek a sizeable part in From Dusk Till Dawn, his and Rodriguez's upcoming vampire movie, starring Harvey Keitel, Juliette Lewis and ER's George Clooney. But as luck would have it, when--on Rodriguez's suggestion--Hayek's part was revised, it now required her to handle a snake. Again she refused, so Rodriguez threatened her with (never confirmed) rumours that Madonna was after the role too. Hayek stoically spent two months with therapists and overcame her phobia.

This determination surfaced yet again last year when Joel Silver went after Hayek for the part of William Baldwin's girlfriend in the much-maligned Fair Game. But the actress was unhappy with her scene, and this time stood her ground, demanding she be allowed to rewrite it. While bigger stars might have been laughed out of the room, Hayek strode out a few weeks later to meet Baldwin with a new script in hand...

"Billy was freaking out, saying, 'Excuse me, I need to see the director'," she laughs, "But he loved the scene--we got a standing ovation from the crew and became good friends."

It's in Rodriguez's Desperado, however, where Hayek's starry colours truly shine. The director gave her only one word of direction in reference to her character, Carolina.

"He told me: 'bookstore'. That was it. Carolina owns a bookstore in a town where no one reads. She is a realist but has a fantasy world. Theses books are her friends and lovers. She travels and meets people through her reading. She's a dreamer, and when she sees the Mariachi walking down the street, she knows he's her destiny and is coming to save her."

Hayek wasn't afraid to get her perfectly manicured nails chipped, either, choosing to perform all her own stunts.

"You know how macho boys get when they're all together?" she smiles. "Well, the set of Desperado was like that. They were all trying to put me down, saying, 'Bring on the stuntwoman, Salma can't do that.' But I did everything. The scene where Antonio and I jump across two buildings was great. They put cables on us and it really was like flying. I didn't want to stop. I kept saying, 'Can we do it one more time?' I had a blast..."