Archerd: Democrats pull in Hollywood money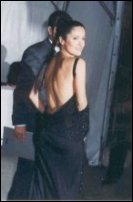 By Army Archerd, Daily Variety Senior Columnist
HOLLYWOOD (Variety) - A double-barreled salvo back at Charlton Heston from Hillary Clinton and Al Gore who were in Heston country, Hollywood, that is, last week.
It was at the National Rifle Assn. convention last month when NRA president Heston, in one of his most dramatic stances, with his chin jutted out, brandished a gold-plated Colonial musket replica and in stentorian tones bellowed, "I'll give up my gun when you take it from my cold, dead hands. I want to say those words again for everyone within the sound of my voice to hear and to heed, and especially for you, Mr. Gore: 'From my cold, dead hands'!"
Well Chuck, more than 2,000 at the NRA meeting heard the sound of your voice, and your display showed you, more than ever before -- scary! Well it didn't scare Gore too much. At Thursday's Democratic National Committee fundraiser at the Beverly Hills Hotel, a relaxed Gore noted, "Charlton Heston said I was the No. 1 target of his organization. But the last time Moses took advice from a (B)bush, his people wandered 40 years in the wilderness!"
George Bush has been an ally of the NRA in Texas, having signed bills OK'ing the carrying of concealed weapons, and other Texas state bills friendly to gun makers.
Friday, the night before at Beverly Hills' L'Orangerie dinery, DreamWorks held a fundraiser for Hillary Clinton's N.Y. senatorial campaign and she again expressed her strong stand on gun control: "There are some who think of me as a threat to Western civilization." (Heston's name was murmured through the room.) This dinner, at $5,000-$20,000 a couple raised $350,000 with Marilyn and Jeffrey Katzenberg hosting. The group included: Alan Horn, Morgan Freeman, Matt Damon, Gina Gershon, Rhea Perlman, Salma Hayek, Edward Norton, Kevin Spacey, Jennifer Perry and Andy Spahn, Laurie MacDonald and Walter Parkes with Sheryl Crow entertaining on (acoustic) guitar. Crow and Clinton had toured Bosnia together.
Saturday night's Beverly Hills Hotel dinner ($50,000-$100,000 a plate) raised $1.4 million for the VP's presidential campaign. It was hosted by Stan Lee, Peter Paul and Cynthia Gershman. Olivia Newton-John, who admitted to me she'd never before supported any political candidate (although she's worked to fund-raise for cancer research and the Children's Health Environment Coalition, sang "I Honestly Love You" and "Hopelessly Devoted to You" for the veep. But, Olivia admitted to me, she's unable to vote for him -- she's not (yet) a citizen. She heads home to Australia for the Olympics where she'll carry the torch on part of its journey to the stadium opening ceremonies.
Lee and Paul are committed to working for the Gore campaign and Lee said the first item on their list of priorities is an animated cartoon they plan to show at the Demo Convention in L.A. "It will not be a (totally) puff piece on Gore," Lee promised, "you accomplish more with comedy." Following the nomination, they plan cartoon strip teleblurbs. Lee, father of Spider-Man, the Incredible Hulk, The Fantastic Four, the X-men and countless other characters, said he'd created strips as far back as for the Eisenhower administration -- for the People to People campaign. Comic books are also planned for Gore. He didn't know as yet who the other characters in the books might be. Heston?
Among guests at this dinner were the Gary Smiths -- he'll produce the DemoConvention. And Mark Canton who recently teamed with Lee and Paul to feature-film Lee's latest, "The 7th Portal" now on the www.stanlee.net Web site. Lee said they now have 150 artists working in their animated digital studio. The Demo candidates' week wound with Cynthia Gershman again hosting both a lunch (at Spago) with Lee and Paul, and a tea (at home) for Hillary Clinton.