Houston Chronicle Interview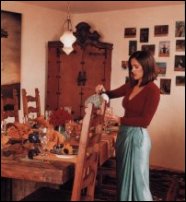 Interviewer: Louis B. Parks

Magazine: Houston Chronicle Interview
Salma Hayek's fans may be surprised when they see their heroine's latest role. She plays a nice sweet girl who wants a family. Up to now her image could be summed up as hot and sexy. It's an image she seems to have worked hard to develop, not only with racy parts in Desperado, From Dusk Till Dawn and Fled, but in an endless string of sexy photos and interviews. It's hard to open a movie magazine and not see Hayek's deep brown eyes and flat tummy, bellybutton and all. Her fan Web sites on the Internet has piles of luscious pictures that change weekly. In Fools Rush In, her new comedy with Matthew Perry of Friends opening Friday, Hayek plays Isabel Fuentes, a fun but introspective homebody more interested in hanging out with her family and friends at home than in wild times.

Ask Hayek about her wild image and she is all innocence. She didn't do those roles to be sexy."Are you kidding me?" she bursts out in mixed indignation and laughter. "You get what you can. It's not like you get all these offers and get to pick." And all those flirty comments we read in interviews? Like the one where she hinted about the physical attributes of the man who could win her heart? Who me? "I was excited because I'm in these publications and I would find all these new words to my vocabulary that I've never heard before, and some of them I still don't understand," she says. "Bombshell? Is he saying something bad? What does that mean? That I bombed in the film? Nobody can tell me where this bombshell adjective comes from."

Hayek, who is surprisingly tiny, a petite 5-feet-2-inches, says all this with great good humor and a self-mocking attitude. It takes only two minutes around her to know she's smart like a fox. She knows exactly what she's doing. So what's the smartest thing she's done since she came to Hollywood? That gets a big, secret grin. "I've done some smart things, but I've never been a smart (aleck) about it. Is that how you say that? So I'm going to keep my mouth shut about the smart things I've done. But I've done some really good ones." That doesn't mean she's phony. You believe she means what she says. Hayek just comes across flirty by nature. It's not her fault if she knows the results. Like when she pats the couch beside her and says, "Sit here." Or reaches out repeatedly to touch an arm or hand or knee when she talks. Little wonder still flushed interviewers rush back to their terminals and write her up as a love goddess.

Hayek insists family is what is really important to her. (The interview, at the Ritz Carlton, was delayed just a few minutes while Hayek huddled with a favorite aunt who lives in Houston.) Family values is the one reason Hayek really wanted the role of Isabel Fuentes in Fools Rush In. Isabel is a Mexican-American who lives with her large family in Las Vegas. One evening she meets Alex (Perry), a transplanted New York yuppie, and does something very unusual for her: She spends the night with him. Weeks later, she learns she is pregnant and finds Alex to let him know that she intends to have the child. That begins an off-and-on cross cultural romance that focuses on family relationships and lifestyle. Hayek found the role three years ago, and kept after it until, finally, the producers wanted her.

"I was attracted to Isabel's humanity," she says. "It's very rare to run into a character so human in a romantic comedy." "She's Catholic, she's very close to her family, she's a very nice girl, but she does have that one-night stand." Hayek, who speaks English well but with a strong accent, considers herself very different from most Hollywood Hispanic actors because she is from Mexico, not the United States. She was born in 1968 in Coatzacoalos, in the state of Veracruz. Her father was of Lebanese descent, her mother was of Spanish ancestry. "I went to Louisiana for two years when I was 13 and 14 to study with the nuns," she says. "I learned some English, but I hung around the Mexicans and then went back to Mexico and I didn't practice." Later she lived with her aunt in southwest Houston.

"I was 16. I got out of high school way too early and my mom didn't want me to go to college yet because she was afraid of college boys. So she sent me here with my aunt for a couple of months until my birthday. I was here for four months." She began her acting career in her late teens, doing minor stage work, then gaining recognition in several telenovelas, or soap operas. She came to the United States in the early '90s, determined to make herself a Hollywood star. She thought she would have a head start because she spoke English. "When I went to acting school, it was so depressing. Nobody could understand a word I said. I couldn't get around, that's how bad it was. I had to dedicate two years of absolute devotion to learn English." As her saved money ran out, she was tempted to go back to Mexico, but resisted. "That was selling out, giving up on your dream," she says. "I'm terribly prideful. I wasn't going to let them know that I made a mistake, that I wasted two years of my life coming back saying, 'You were right, I shouldn't have gone.'"

Eventually she landed a few small roles, and then the female lead in Rebel Highway (Roadracers), a cable film by Robert Rodriguez. Rodriguez, who had made a splash with El Mariachi, was doing this movie as a sort of warm-up for Desperado, to show he could handle a Hollywood film. He later used Hayek in Four Rooms and gave her the female lead in Desperado. In that film, she agreed reluctantly, to do a nude love scene. She was so nervous that the scene had to be edited into very short segments. Next, Rodriguez cast her in a cameo as a stripper who turns into a vampire in From Dusk Till Dawn. And she plans to work with Rodriguez again. "I will be his slave," she says, "because he believed in me when no one did. I will tell you one good thing that I'm proud about myself, and that is gratitude to the people who have been good to me." She waves her finger and whispers, "So you be nice to me."

In recent years, there has been an effort to tap into the important Hispanic market here in the United States and to create Latin stars, but the formula has been elusive. "I think one of the reasons is they get actors born here (instead of Mexico). A lot of these actors who claim to be Latino speak terrible Spanish, or none at all. I come from that market and they know who I am, and we speak the same language. They've seen me grow, so they relate to me in a more personal way. The American films I'm in are always No. 1 when they come to Mexico. We are right at the crossing point where they will learn how to capture the Hispanic audiences," Hayek says, "I'm doing this film and trying to promote it with the Hispanic audience and I have seen a lack of knowledge even on which are the Hispanic publications or shows in some of the cities." She readily admits that she feels "incredibly" uncomfortable with representing Latin culture in movies. "It's a big pressure," she says. "I didn't mean to do that." Her voice grows very quiet. "I'm a little bit more selfish than that."

Although there are some stereotypes in Fools Rush In, both Mexican and Anglo, the film is respectful of Mexican culture and religion. Hayek, who is Catholic, was pleased with that. She hopes her American audience will find some aspects of that culture appealing. "I am extremely grateful to this country, and I have learned many, many things here." She says with great seriousness. "This movie gives me the opportunity to give something back to this country. To show something about where I come from, and about who I am, about my roots, that this country could use. And that is family values. Family unity. Family support. Of all the bad things we have, that is one good thing, family values. I just hope in some ways it's inspiring for the young American couples that are beginning a family. Because we are very affectionate. We are not afraid to touch, we are not afraid to show or say how much we love a member of the family."