Chris Rocks Salma's World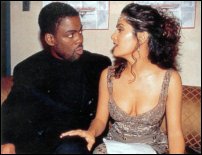 Friday, October 23, 1998
Another scintillating snapshot from the GQ event was of Chris Rock hanging out in the Green Room sipping Evian and watching Game 4 of the World Series.
When Salma Hayek and George Clooney came backstage to pose for pictures, Rock pulled aside a black curtain and said, "Nice a--."
He was not referring to Clooney.
As soon as Hayek, who was wearing a stunning clingy white dress, finished with the cameras, she sought out Rock. "What did you say to me?" she teased. "I heard you."
The two hugged, and then Hayek asked Rock, "How come you never call me? You never call me. How come you never call me?"
The happily married comic didn't answer at first, but as soon as Hayek trailed away, Rock called out, "I'm coming to L.A. soon. I'll call you."
Sure he will.