CBS Protest Gets 'Dogma' Ads Pulled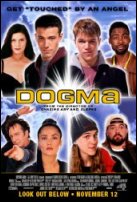 Salma Hayek is reciting the names of cities she has been to in the last year: "Mexico City, Acapulco, Veracruz, London, Madrid, New York, Santa Fe, Las Vegas, Seattle, Paris, San Sebastián, Bilbao, Milan ... " Even Pittsburgh. In fact, Hayek's schedule has become so hectic that she's away from her Los Angeles home for more than half the year. "I travel like a gypsy, " she says. That's a lot of traveling for anyone, even an international star such as Hayek, whose father is Lebanese and mother Mexican, and who likes to work and visit friends all over the globe. But the 31-year-old actress-currently co-starring with Will Smith in Wild Wild West, the movie version of the classic TV series-seems to enjoy the frenzy. Even when she has downtime in L.A., she's apt to have a houseful of people visiting her.
"We'll have about seven people here at one time," Hayek says as she arranges orchids in the sunny kitchen of her Hollywood Hills home, still dressed in the silky bronze-hued suit and high heels she wore to her last appointment. While a few houseguests from Mexico have just ended their stay, Hayek's mother, Diana, is on her fourth week here. Meanwhile, Hayek's boyfriend, British actor Edward Atterton, is wandering from room to room talking on a portable phone, getting ready to leave for London to shoot a movie. And planted at Hayek's kitchen table is a friend who is putting his laptop on what he describes as a TV documentary series about the lives of the saints. Hayek will produce it as part of a deal with Telemundo and Columbia Tristar Television. "We do everything," she says. "Research, writing. It's lots of facts and highly artistic."
Despite Hayek's hyperkinetic lifestyle, she seems to know exactly where she's going. When she found this house in 1996, for instance, she sought the opinion of her brother, Sami, ???, a Mexico City-based environmental designer. But by the time he arrived to look the house over, she had already bought it. "Once she has her mind made up, that's it," says Sami. "It's good, because if you try to think too much and want to do the perfect thing, you end up doing nothing. Salma's very brave-even when she was young she was very strong in what she believed."
Hayek didn't mind that the three-bed-room fifties ranch house was painted a dull gray, that the concrete patio was cracking, or that the ceilings were coated a tacky cottage-cheese texture. She saw the potential in its clean lines, open spaces and the drop-dead city view that wows visitors. "Every bad thing from the fifties was in the house," says Hayek. To make the place more cozy and colorful, brother and sister redid the ceilings, tore out a wet bar, replaced carpeting with cedar-plank floors, and stripped the mirrored walls and painted them ocher. Salma selected the cornflower-blue color for the book of flowers-because, says Sami, "You can't go wrong; don't make mistakes."
Sami also covered the patio with tea tiles "because Salma wanted something Mexican," then bright it up with tiny blue glazed one ??? Lavender, gardenia and jasmine from the garden sc ??? she says, as well as orange, grapefruit, peach, persimmon trees, but she's proudest of her strawberry plants, which dra??? a low wall. "I planted everything, and I eat everything," she so??? But don't get her started about food. "My speciality is goin??? refrigerator and making something up with whatever ???
??? favorite recipes from her mother and once treated 75 guests New Year's Eve buffet; she cooked everything herself-except the roasted pig. "It couldn't fit in my oven," she was ??? shocked because I was eating the ears of the pig." Hayek goes all out to make her dinner parties memorable hiring musicians to serenade guests. "We have bohemian ??? where people sing and dance a lot," she says enthusiastically ? rushes to an area near the fireplace and points to a micro scratch on the floor. "Neve Campbell's heel scraped into this big-time, right here, during my salsa night," she says. "I have friends over from Mexico, and a lot of American ??? ing with the Spanish experts."
Hayek's love of things Latin extends to more serious ??? the fiesta. Her home reflects a desire to preserve traditional ican arts. "Mexico has a very precious culture, and we're los??? says Sami, explaining why Salma had him install old hacienda from Arte de Mexico, a specialty store in North Hollywood entrance to the house, and create a dining room table from two lar doors. The wooden bed in the master bedroom, m Guadalajara, is covered with colorful pillows designed by a hood friend, Alejandra Gonzalez, who used traditional dress from Oaxaca, the hometown of Hayek's grandmother.
Hayek has also filled her house with religious symbolic images of saints that she has collected; they have, she says more personal than religious significance. Although her mother special room called La Cueva (the cave) for praying and ?? Hayek grew up in an otherwise modern, brick house in Coatzacoalcos, on the Gulf of Mexico; its marble floors and swimming pool reflected the town's boom years in the seventies, when an oil-refining center (Hayek's father "constructed and tained" the oil fields).
"I'm a little bit religious," she says. "I was raised 100 percent Catholic. But I don't go to church every Sunday anymore. I do pray before I go to sleep. To me, these objects are about home, and feeling my mother and grandmother. It's a sense of my history and roots." There's nothing provincial about Hayek, however. She had a privileged childhood, visiting Disneyland, skiing in Colorado, traveling to her mother's favorite place (Greece) and her father's (Las Vegas), and studying in the south of France. And performing always came naturally to her.
"She would play the magician, and I would help her," says Sami. "Or she would dance or sing at family parties. She would always express herself." While attending Iberoamericana University in Mexico City, Hayek told her parents of her desire to pursue acting. Her father wanted her to first finish school, in case she wasn't successful as an actress. But, as Sami remembers it, she insisted: "No, because I will be a good actress." Hayek quickly proved herself.
In 1989, she played the title character on the popular Mexican TV drama Teresa, and soon became one of the most famous stars in the country, racking up best-actress awards. But when she moved to L.A. in 1991 to pursue a film career, she had to settle for guest-star roles on TV. Finally, after being spotted by director Robert Rodriguez, she was cast opposite Antonio Banderas in Desperado, and became a Rodriguez regular, landing roles in Four Rooms, From Dusk Till Dawn and The Faculty. She also got to display her flair for comedy in Fools Rush In, playing a modern Mexican woman opposite Matthew Perry.
Her role as a willful charmer in Wild Wild West could advance her status in Hollywood (she is slated to play artist Frida Kahlo in an upcoming Miramax film bio), but a lively personal life is equally important to her. "I see people who have a more successful career but who are not as happy as I am," she says. And before too long she'd like to add the role of mother to her resume. "Edward and I really want kids," she says, showing off a box of toys she keeps for friends' children to play with. "This house is always full of kids. Most of my friends have babies, and they love my hammocks out back. They like hitting the chimes, and they love the little fishes we painted on the barbecue. I didn't realize how much of a kid's house this is."
Sami, who measures his sister's success not by how much she's changed, but by how much she hasn't, understands Hayek's priorities: "She's a family girl. ... She has always been a simple, caring person. She's not stuck up or greedy. That's what I'm really proud of her for." For a woman who spends a good part of her life on location, Hayek ???
© InStyle Magazine 1999 | Transcript by Jacinda @ HayekHeaven.net