From Rags to Riches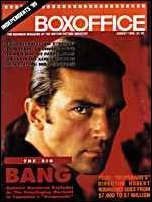 With "Desperado," Robert Rodriguez Learns To Make Do--With Money, Star And Studio
By Michael Haile
Filmmaker Robert Rodriguez's rags-to-riches story has become this decade's Hollywood legend. In 1992, a 23-year-old Rodriguez directed, wrote, produced, photographed, sound-recorded and edited an 80-minute 16mm Spanish-language action feature called "El Mariachi," with money earned from a stint in a research lab as a test subject for cholesterol medication. Shot in 14 days with amateur actors and a budget of only $7,000, the film tells the story of a traveling Mexican musician who wanders into a border town looking for work, only to be mistaken for a dangerous killer.
    Rodriguez naively sent a tape of "El Mariachi" to an agent at ICM whose name he culled from a magazine. Not only was Rodriguez signed for representation but within weeks he was being courted by film executives impressed with his lively, inventive visual style (and, one would guess, his frugality). The Texas native signed a two-year development and production deal with Columbia. In a fairy-tale twist, the studio decided to release "El Mariachi" theatrically, spending $100,000 to improve the film's look and sound. "El Mariachi" became the lowest-budgeted feature ever released by a studio, and Rodriguez was acclaimed a Hollywood wunderkind.
    "Nobody was supposed to see this film," Rodriguez says. "I was just trying to hone my filmmaking skills, maybe sell it to the Spanish home-video market. I didn't figure anyone would pay $7 to see a $7,000 film." He laughs. "The movie was just a rehash of every other movie I had ever seen. The fact that they were going to put this movie out was amazing. All the time I had wanted to be a filmmaker, I was always led to believe that you needed a lot of money, you needed to go to a top film school and then work your way up the Hollywood ladder." Instantly, he was way up the rungs.
    The fruit of Rodriguez's Columbia deal is this August's bullet-riddled actioner "Desperado," the much-anticipated sequel to "El Mariachi." This time around, A-talent Antonio Banderas stars as the nameless mariachi. Written, directed and edited by Rodriguez, "Desperado" co-stars Joaquim De Almeida, Cheech Marin, Salma Hayek and Steve Buscemi and bears certain imprints of such filmmakers as Sergio Leone, Sam Peckinpah, John Woo and "Desperado" co-star Quentin Tarantino. The character of the mariachi has shifted and he more closely resembles the man he was once mistaken for. He was a peaceful guitarist in the first film, but now he's been transformed into a gunslinger set on wiping out a Mexican drug dealer and his henchmen. I was influenced by `For A Few Dollars More' and `A Fistful of Dollars' -- the idea of taking the same character and putting him into a different kind of adventure."
    With a budget a thousand times that of "El Mariachi" ($7 million), Rodriguez entered into the different adventure of mainstream Hollywood moviemaking. "Talk about autonomy. With `El Mariachi,' I didn't have to answer to anybody. But the pressure now is actually less, because this time it's not my own money." He laughs again. "Seven million dollars is a good sum, but for a major studio action film it's still a very low budget. I remember them telling me, `We make mainstream movies. Don't put in any weird stuff.' I guess Americans like their action straight -- Steven Seagal breaking some guy's arm. So I said, `Okay, give me a mainstream action budget, give me $40 million and Bruce Willis, and we'll make a mainstream movie.' After that, they pretty much let me do what I wanted...as long as there were going to be lots of explosions. I'm competing against movies that cost between $50 million and $150 million, so I had to make every penny count. We completed 60 or 70 shots done per day, so the energy level is very high.
    "People always ask me how I made a movie in this business so cheaply. What I want to know is why the studios spend so much. I see so much waste; the big movies often seem static and tired. Maybe they are too polished. They've removed the grit that comes from making films the hard way, by running around fast and sweating it out, forcing yourself to be creative with a lower budget."
    What also makes "Desperado" unlike the studios' status quo is its largely Latin cast and crew. Hollywood has long ignored Latinos (particularly when casting leads), but that's changing with the recent success of actors like Banderas, Andy Garcia, Rosie Perez and the late Raul Julia -- along with the fact that Latinos now buy as many movie tickets (see sidebar) as do African-Americans. "The main reason I did this movie was that I wanted to create a Latin action hero and a different-flavored action movie," Rodriguez says. "The Latin community needs more success stories before Hollywood will know how to handle that market.
    "Spike Lee put out his own movie and made back enough money for Hollywood to take interest in the African-American market. This is a business, and certainly they're not going to leave any gold mine untouched. I hope we can make more Latin-themed pictures that are universal enough for other audiences. That's the real trick to making it commercially viable."
    Rodriguez grew up in San Antonio, the third of 10 children, and early on developed an interest in cartooning and filmmaking. "I drew little flip-cartoon movies in paperback dictionaries. One day, my dad brought home a video camera, a real clunker, but it had great special effects. I made little movies around the house for fun with my brothers and sisters for years, shooting and editing everything myself. By the time I made `El Mariachi,' I had already shot and edited so much that I'd given myself filmmaking training without knowing it."
    Rodriguez attended the University of Texas at Austin, where he drew a daily newspaper comic strip called "Los Hooligans" (now the name of his production company, in which he's partnered with his wife, Elizabeth Avellan). Although his grades were too low for him to be accepted initially in the film program, out of school he made nearly 30 Super-8 movies with borrowed equipment and no money. Finally accepted into the film program, he went on to make a number of 16mm films; one, "Bedhead," won festival awards and aired on PBS.
    The meteoric success of "El Mariachi" convinced him all the more to maintain his hands-on approach. "I want to shoot that specialization myth down. Be everything! The most powerful thing is to become self-sufficient, to walk into a room knowing you could actually make a film all by yourself. Then you're not begging. I'm used to doing everything, and I don't want to give up the fun of wearing many hats. I told someone at the studio I wanted to edit this movie, and he said, `We can't let you edit your own movie. Directors never edit their own movies. It's too much work.' Let me tell you something: The day I don't edit my own movie is the day I'm just doing it for the money. It's cool to make a good deal, to know you're going to get paid, but it's really all about the work. That's the real thrill."
    Recently, Rodriguez directed a segment of the four-part "Four Rooms" for Miramax -- with whom Rodriguez in May signed an exclusive directing/writing/producing pact. "Four Rooms'" other segments are helmed by three other new lions: Quentin Tarantino ("Pulp Fiction"), Allison Anders ("Mi Vida Loca") and Alexandre Rockwell ("In the Soup"). "That project was a way to experiment. We each had certain elements to make a story around -- a hotel room on New Year's Eve, a bellhop -- and we didn't tell each other what we were doing. It could easily have been a bad idea, but they all tie together very well."
    Next up for Rodriguez are two Miramax productions, the first a horror/action film, "From Dusk Til Dawn," which Tarantino scripted and stars in (with George Clooney from TV's "E.R."). A point of financial note: The $15 million behind "From Dusk Til Dawn" doubles Rodriguez's "Desperado" budget. At that rate of rise, the young director will soon be making one of those $100 million movies. But remember, studio brass: You won't have to include a separate line item for an editor.