Salma Hayek is Frida - The Two Fridas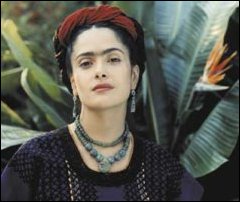 By Stephen Farber
Source: www.thebookla.com
In a famous self-portrait, Mexican artist Frida Kahlo stands alongside her famous husband, Diego Rivera. He towers over her; she looks almost like a child trapped in the grip of a huge, bearish figure. But that image is deceptive, because Frida has proved to have a power that belies her diminutive stature. Although she painted in obscurity during much of her life, in recent years her reputation has grown and now equals that of her celebrated husband. Her striking self-portraits of a damaged but defiant woman clad in colorful Mexican garb have caught the imagination of the entire world. Kahlo has become a feminist icon--the epitome of the woman overpowered and victimized by a potent man but gradually emerging from his shadow. She now stands as one of the most revered women artists of all time. The saga of the film project based on Kahlo's life is strangely analogous to Frida's own life story. This film has become the driving passion of several women who lack the clout of their male counterparts in Hollywood but have persevered in pursuit of their dream. "Anyone else would have given up by now," says Salma Hayek, the actress who is determined to play Frida. "But I've been obsessed with this project for eight years, and I know it will be made." If Frida Kahlo's personal journey encompassed an unlikely triumph against adversity, the women behind the movie have survived some heroic struggles of their own.
The first champion of the movie was Nancy Hardin, who had spent a decade as a New York book editor, a literary agent in Hollywood, then one of the first important female studio executives. In the mid-80s, Hardin was looking to make the transition to independent producing, and she learned about a new biography of Frida Kahlo by Hayden Herrera. Kahlo, who had died 30 years earlier, was at that point virtually unknown. But after a dinner with Herrera's agent, Hardin perused the biography and found herself compelled by Kahlo's amazing life story. As a child Frida Kahlo spent a year afflicted with polio. At the age of 18, she was struck by a streetcar, and her spine was broken in several places. The accident damaged her reproductive organs, and the theme of impaired maternity became one of the most potent motifs in her art.
As a result of her injuries, she also had to undergo several more operations later in life. Two years after the accident, Frida went to show her early work to Diego Rivera, who was already Mexico's leading artist. He left his wife to marry her, and the two became involved in a complicated, tempestuous love affair that lasted until Kahlo's untimely death at the age of 47. "They both had generosity of spirit," Hardin says. "As difficult as Rivera was, he was always encouraging toward her art. There was no envy on his part. On the contrary, he always said that she was a greater artist than he was."
Rivera was, however, incapable of monogamy, and Kahlo was hurt by his infidelities, especially when he began a furtive liaison with her younger sister. She divorced him but then remarried him a year later. She had her own extramarital affairs, including one with socialist leader Leon Trotsky, and she also dallied with several women. Hardin came to see Frida's story as an emblematic tale for women torn between marriage and career. "I thought her dilemma was very contemporary," Hardin says. "Although she was very passionate about her relationship, it did not interfere with her work. She was determined to live fully in every area of her life."
After she optioned the rights to Herrera's book in 1988, Hardin tried to sell it as an epic love story in the tradition of Out of Africa. "Mexico in the 30s was like Paris in the 20s," Hardin says. "It was a period of tremendous cultural and political ferment." Hardin contacted the hottest actresses of the period, including Meryl Streep and Jessica Lange, and although they expressed interest, they were reluctant to make a commitment before a studio had officially purchased the project. "But nobody at the studios had heard of Frida at that time, and there was no interest in Latin America," Hardin recalls. For the next couple of years, she sent the project to every studio in town, but every single one rejected it.
Gradually, however, the interest in Latin culture began to blossom, and Kahlo's art came tobe revered in feminist circles. In May of 1990 one of Kahlo's self-portraits sold at Sotheby's for $1.5 million, the highest price ever paid at auction for a Latin American painting. Around the same time, Madonna bought two Kahlo paintings and announced her plans to star in a film based on Frida's life. Other producers jumped on the bandwagon. Robert De Niro's Tribeca Productions envisioned a joint biography of Rivera and Kahlo. Director Luis Valdez, best known for his film of La Bamba, sold a project to New Line and rushed to put his film into production in the spring of 1991. But protestors objected to the casting of non-Latina Laura San Giacamo as Frida, and New Line bowed to the controversy and dropped the film. Within a few years Hollywood had gone from complete ignorance of Frida Kahlo to an insane feeding frenzy. "When I first tried to sell the project," Nancy Hardin says, "there was no interest because nobody had heard of Frida. A few years later, I heard the exact opposite--that there were too many Frida projects in development, and nobody wanted mine."
Nevertheless, Hardin persisted. Eventually she persuaded HBO to option Herrera's biography for a cable TV movie. At HBO Hardin partnered with Lizz Speed, a rising young development executive and producer. Speed had gotten her start in Hollywood by working as an assistant to one of the town's most powerful women, Sherry Lansing. A few years later she joined director Brian Gibson, who had just completed What's Love Got to Do With It, the story of Tina Turner, another woman subsumed by a powerful man. Gibson had also directed The Josephine Baker Story for HBO, and the network hoped he might sign on to helm Frida. But the movie was difficult to cast, because there were no Latin actresses with box office clout in the early 90s. Although the project languished at HBO, it developed another powerful advocate in Speed, who became inflamed by the cinematic possibilities of the Kahlo biography.
"I was attracted by her will to persist, her refusal to settle for mediocrity," Speed says. "She had such an insatiable appetite for life. To me her art was secondary to the strength of her spirit. Besides that, Frida's story raises questions about how two larger-than-life people stay married. Rivera was incredibly promiscuous, but he never tried to hide it. I saw him as an honest dog. Through it all, he and Frida were always respectful of each other. They grew together and ultimately had a strong marriage."
Speed's passion for the project helped it through its next difficult transition. After four years in development, it became obvious that HBO had grown hesitant to make the movie. Speed and Hardin managed to get it away from HBO and sell it to Trimark, a small distribution company that was looking to change its image and cash in on the booming indie film movement. "They were shifting from exploitation pictures to classier films like Eve's Bayou," Hardin says. "They liked Frida because it would give them arthouse cachet along with a hot, sexy actress."
That actress was Salma Hayek, who became attached to the project when it moved to Trimark. A few years earlier Hayek's name had been mentioned as a possible candidate to play Frida, but at that point, she was an unknown commodity. By the mid 90s, however, she had starred in a few moderate hits--Desperado, From Dusk Till Dawn, and Fools Rush In--and Trimark wanted to be in business with her. Hayek had been fascinated by Kahlo's work from the time she was 13 or 14. "At that age I did not like her work," Hayek says. "I found it ugly and grotesque. But something intrigued me, and the more I learned, the more I started to appreciate her work. There was a lot of passion and depth. Some people see only pain, but I also see irony and humor. I think what draws me to her is what Diego saw in her. She was a fighter. Many things could have diminished her spirit, like the accident or Diego's infidelities. But she wasn't crushed by anything." Hayek had heard about the other Frida projects, but she resolved that no other actress would play the part. "This movie should be played by a Mexican," she insists. "In a way Frida was like Mexico--her body was broken, but she had a strong spirit."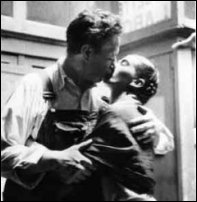 Just when the project finally seemed close to production, it hit another roadblock. The Trimark executive who championed it, Jay Polstein, left the company, so Frida lost its strongest executive ally. Hayek was frustrated and secretly took the project to Harvey Weinstein at Miramax. Weinstein liked to nurture young actors, and Hayek was one of the rising stars in the Miramax stable; the company had financed many of her early pictures. Miramax was of course the premier house for venturesome independent films, and Weinstein immediately responded to the idea of actually producing the Frida Kahlo project that had been the talk of Hollywood for a solid decade. Miramax bought it from Trimark and hired Hayek, Hardin, and Speed, along with Jay Polstein, to produce the picture. "It cost Miramax a huge amount of money to secure the rights," Hardin says gratefully. "But it was Salma who pushed it through." "Sometimes producers are wary of working with actors," Speed adds. "But it's been great with Salma because each of us can take turns being the cheerleader for the project. When one of us gets drained, one of the others can take over and push for it."
"To me this is not just another movie," Hayek says. "I want to tell this story about my country and my people. For a couple of decades, Mexico was an important center where great people from the arts and politics gravitated. I want to remind the world of that."
Weinstein approached Walter Salles, the director of the Academy Award-nominated hit, Central Station, to direct Frida. But a prior commitment prevented Salles from taking the assignment. "Losing Walter was another blow," Speed sighs. But the producers have refused to lose hope. Miramax is still enthusiastic about the movie and has sent the script out to several high-profile directors. "Frankly, Miramax has too much money invested in it now to give up on it," Hayek says. "I know this film will be made." Kahlo, who was famously cynical and self-deprecating, probably would have been bemused by all the Hollywood intrigue surrounding her name, but she also might have been secretly tickled. After all, it is only fitting that her turbulent life would serve as the backdrop for one of the most wrenching Hollywood struggles of the last decade. When Kahlo's story finally does reach the screen, it may be the ultimate revenge of the little woman who lurked in the shadow of several towering men and finally overpowered them all.