Latin Beat ABC News - Special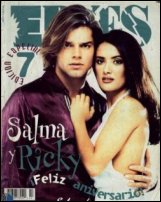 By John Quiñones
ABCNEWS.com
N E W Y O R K

— Working on this special, The Latin Beat, has been the most fun I've had professionally in a long time.
Putting my reporter's hat aside, and just meeting these extremely talented artists — Marc Anthony, Gloria Estefan, Enrique Iglesias, Salma Hayek, Andy Garcia and Edward James Olmos — has been such a joy. They're great performers but also wonderful human beings, "stars" in every sense of the word and yet incredibly down-to-earth and very conscious of their "role model" status in the Hispanic community.

Latin Influence Across America
This hourlong broadcast (Tuesday, Sept. 7, 10 p.m. ET) not only features tremendous music and music videos — it takes us to the roots of Latino "crossover" movement. We delve into the very beginnings of salsa, merengue and "Tejano" — yes, "Tejano," which literally means Texan.
As a native of San Antonio, I grew up with this kind of Mexican-American music. It's also the roots of the music that a young woman named Selena made famous. And we get to hear some of the best of it.
We also get to "go home" with Gloria Estefan and her husband Emilio in Miami. At around midnight a few nights ago, I found myself being given the grand tour of their studios, where so many performers — from Mariah Carey (who is part Venezuelan) to Ricky Martin and Jennifer Lopez — have recorded some of their great music. It's an amazing place.
Estefan is considered a pioneer of Latin music in the United States and is one of the world's top-grossing Latin artists of all time.
"We make music that we feel is reflective of who we are. And who we are is a mix. I mean, I came to the United States when I was 2 years old … Music is something that touches us on an emotional level, a very primal level. And you don't have to know where it's from," says Estefan.

From Margins to Mainstream
Ironically, 10 years ago, Estefan was told by record companies that her music sounded "too Latin." For fear it wouldn't sell in "Anglo" markets, she was urged to take out the percussives, horns and piano — a move Estefan and her producer/husband Emilio refused. Dedicated to expressing their bi-cultural Cuban-American roots, the Estefans' perseverance ultimately paid off.
In New York, I hung out in Marc Anthony's old neighborhood — Spanish Harlem. This great salsa singer is a child of the barrio where, he says, the graffiti, the police sirens, the streets made him the ambitious and passionate young man that he is today. In one part of this special he and I walk down those streets — or at least try to. (You can watch this part of the show now — click on the main image above.)
He is descended upon by hundreds of his fans — people asking him to sign everything from baseball gloves to telephone bills! It's such a long way from those streets to Roseland — the concert hall we visit where Marc debuts his new English album.
We also visit Hollywood and take a look at how this popular "crossover" phenomenon in Latin music is having little effect on Hispanic actors and the movies. The stunningly attractive Salma Hayek, the equally handsome Andy Garcia and the dynamic and outspoken Eddie Olmos tell us how they have managed to persevere through so many difficult phases in their professional lives.
It's all very inspiring.
In the midst of all this, we get to look how the Hispanic community is changing the face of America and at how influential, politically and economically, this segment of the population has become. (Buying power: somewhere around $380 billion!)
At a time when we, in the media, focus on so many of the negative aspects of Hispanic America, it is truly an honor to report on some of the good.
I think all of us, Hispanic or not, stand to gain great, timely insight from this fun, music-packed adventure. It speaks well of the Great American Melting Pot (just mix in a little salsa). I hope you have as much fun watching it as we did putting it all together!

ABCNEWS: The Latin Beat - Full Transcript Tuesday, September 7, 1999
(This is an unedited, uncorrected transcript.)

ANNOUNCER It's the beat that burns red hot, the rhythm raging across America.
"Latin Beat." Tonight, the story of a cultural revolution set to a Latin sound. Ricky, Jennifer, Gloria, Marc, Salma, Enrique.

ENRIQUE IGLESIAS, RECORDING ARTIST I'm going to keep recording Spanish albums until I die.
(singing) Bailamos…

ANNOUNCER Following in his father's footsteps, Enrique Iglesias has a new generation swooning with the biggest Latin single on the charts.

ENRIQUE IGLESIAS (singing) Bailamos…

JENNIFER LOPEZ, SINGER/ACTRESS My music, I call it Latin soul because it's a mixture of all the things I was when I was growing up.

ANNOUNCER The Latin sounds of childhood in the barrio meet hip-hop and R&B in Jennifer Lopez.

MARC ANTHONY, RECORDING ARTIST We're like tribes in a way. I mean, we are. You know, what's Mexican, what's Puerto Rican, what's Colombian, what's Salvadorian? The common denominator is the language.

ANNOUNCER Marc Anthony is about to bridge the language gap with his first album in English.

MARC ANTHONY (singing) About wanting me…

ANNOUNCER When Gloria Estefan first started out, record executives told her that Latin music would not make it in America.

GLORIA ESTEFAN, RECORDING ARTIST When "Congo" came out, they told us point blank, "This will never be played on Anglo radio."

ANNOUNCER And in Hollywood, actress Salma Hayek found more of the same prejudice.

SALMA HAYEK, ACTRESS When I first started, they said, "Just don't say you're Mexican."

ANNOUNCER How far we've come — from Ricky Ricardo in the '50s to Ricky Martin in the '90s. Now, from the tropical capital of Latin culture, Miami's South Beach, John Quinones.

JOHN QUINONES, ABCNEWS Good evening. In the 15 years that I've worked here for ABCNEWS, I've heard it, I've seen it and I've felt it. That seductive blend of salsa, merengue, mambo. Where did it come from? Where is it going? And why now does the entire country seem intoxicated by it? Well, we'll be right back with the story of the phenomenal rise of Latin music in America.

(Commercial Break)

ANNOUNCER Once again, John Quinones.

JOHN QUINONES If you talk to the experts, you'll find that by the year 2050, one out of every four people in this country will be of Hispanic descent. We're already feeling the surge with that other language we hear on the streets, the food we eat, the colors we see and undeniably those rhythmic sounds, la musica.
(VO) You can hear it all over America. It's a huge hit. But its title is in Spanish? Get used to it.

RICKY MARTIN, RECORDING ARTIST (singing) Upside inside out. Livin' la vida loca. She'll push and pull you down. Livin' la vida loca.

JOHN QUINONES (VO) If you're making the case for the new and incredible popularity of Latin music and performers, you would do well to consider exhibit A, Ricky Martin.

RICKY MARTIN And it sounds amazing. You know, even though I'm working with so many producers, every song, you know, there's a link between every song. And I guess that link is the Latin sound, the percussive sound.

JOHN QUINONES (VO) If Latin singers before him hit the States like a tropical storm, Ricky Martin is a hurricane. Less than a decade ago, Ricky Martin fans were found only among the newly pubescent. He was part of the teenage group Menudo. Natives of Puerto Rico, most of their songs were in Spanish. Young enough to have been a teenage fan of Menudo, New York City-born actress Jennifer Lopez is our exhibit B. "B" for breakout. In her first major film, she played the emerging Mexican-American singing star, Selena.

JENNIFER LOPEZ (CLIP FROM "OUT OF SIGHT") Damn it, Jack. Put the gun down!

JOHN QUINONES (VO) She co-starred with George Clooney in "Out Of Sight" and followed a hit movie with a hit album.

JENNIFER LOPEZ (singing) If you had my love And I gave you all my trust. Would you comfort me? What would you do, babe? I started off as a dancer and a singer in my career. So, although people know me as an actress, singing and dancing is what I always did.
(Singing in Spanish) In my music, you know, I call it Latin soul because it's a mixture of all of the things I was when I was growing up. I lived in the Bronx, and hip-hop was just coming on to the scene and stuff like that. And then Latin music. I mean, on the holidays, all we listened to was salsa.

JOHN QUINONES (VO) Salsa, mambo, merengue-music cherished by the parents of today's Latin stars exposed them to a rich musical heritage.

OSCAR HIJUELOS, AUTHOR Latin music is about transgenerations and also keeping the culture alive.

JOHN QUINONES (VO) Oscar Hijuelos wrote a Pulitzer Prize-winning novel about Cuban-American musicians trying to bring their music to a new homeland.

OSCAR HIJUELOS I wanted to capture, I guess, a whole generation's feelings about the countries, their homes that they left, whether it was Puerto Rico or Cuba, or it could be Mexico, it could be anywhere. Music became a way for that generation, my parents' generation, to maintain their hold on their own histories.

JOHN QUINONES (VO) Enrique Iglesias — his history and heritage are Spanish, and so are his earliest musical memories.

ENRIQUE IGLESIAS I came from Spain. So I did listen to a lot of flamenco. I always liked flamenco music. And then a lot of Spanish bands. Then I started listening a lot to Bruce Springsteen, Billy Joel, a lot of that.
(singing) Bailamos. Let the rhythm take you over. Bailamos.

JOHN QUINONES (VO) Enrique is our third exhibit, the power of the Latin beat. His blend of Spanish influences and American rock 'n' roll have sent him to the top of the charts.

ENRIQUE IGLESIAS I mean, the album went platinum in the US and started selling and selling and selling and selling. And it got up to five million, six million albums. I was like, "Whoa."

JOHN QUINONES (on camera) So does it surprise you that the music is now doing so well?

ENRIQUE IGLESIAS No, it doesn't surprise me at all because it's passionate and it's real. When a song comes from the heart, it doesn't matter what you're talking about. I mean, it touches people. (Screaming)

JOHN QUINONES (VO) Enrique's father, Julio, sold more than a few million records to an older generation. At age 24, Enrique has no problem being the latest Latin sex symbol.

ENRIQUE IGLESIAS (singing) We're going to dance Through the night. I just close my eyes and say, "Thank God I'm here. And let's enjoy it. Let's have fun."

JOHN QUINONES (on camera) But the young women in your audience go nuts. I mean, how do you explain that?

ENRIQUE IGLESIAS I don't know. Because before, they never used to go nuts before I was … when I wasn't a singer. That never used to happen. So it's got to be because of the music.

JOHN QUINONES (VO) Enrique, Jennifer, Ricky. Why are so many Latin performers suddenly so attractive to the record companies?

ALISA VALDES-RODRIQUEZ, LA TIMES MUSIC CRITIC Money. None of this is done out of the goodness of their hearts, or it would have been done a long time ago. It's done as a nod to the power of my wallet.

JOHN QUINONES (VO) It is projected that the American Latino community will spend some $383 billion in 1999.

ALISA VALDES-RODRIQUEZ It's really that simple. And it's basic demographics. You look at census data. You look at spending data. There's a whole big bunch of people that were not being addressed.

JOHN QUINONES (on camera) The Latino community is now the fastest growing minority in the United States — 30 million and counting. That's roughly 11 percent of the population. So it's no surprise that we can feel its influence and hear it more and more all across America.

RADIO ANNOUNCER KCCR community college radio.

JOHN QUINONES (VO) It's everywhere, from this small college radio station in El Paso, Texas, to the giant LaMega Radio in New York City.
(Speaking Spanish)

"PACO," LAMEGA DEEJAY Being the number-one mike in New York City and being Mega, the number-one station in last year, 1998, we were in the number-one position. It's an accomplishment, and it's proof that the power — the buying power, the listening power, the following power … is there.

ENRIQUE IGLESIAS When you go to Miami, it's the same thing … LA, San Jose, San Diego, San Antonio, Dallas. All of these big cities, you know, the biggest stations are in Spanish. It was bound to pop. Sooner or later, it was bound to pop. And it was bound to mix in with the Anglos.

JOHN QUINONES (VO) That mass acceptance evolved step by step over the decades. In the 1940s, Tito Puente played to packed houses in America's largest cities. And then in the '50s, another Latin music star made a quantum leap into the American mainstream.

DESI ARNAZ If you are having trouble Follow my advice Let a conga brother Break the ice.

JOHN QUINONES (VO) Desi Arnaz introduced Cuban music to a generation of American television viewers and, for that matter, to a young Mexican boy watching in Tijuana.

CARLOS SANTANA, MUSICIAN The first time I heard Afro-Cuban music was on the "I Love Lucy"
show, you know, with "Babaloo." When Desi Arnaz used to play the congas, and he'd get everybody in a line and they would all follow him. And I said, "Hmm, this is very interesting."
(singing) Oye como va …

JOHN QUINONES (VO) By the late 1960s, Carlos Santana was his generation's most well-known Latin performer. One Santana hit was a new version of an old Tito Puente song.

CARLOS SANTANA "Oye Como Va," people used to make big circles and dance it like, same thing, like in one of those "I Love Lucy" shows, like the conga. Conga, conga, uh-uh, uh-uh.

ALISA VALDES-RODRIQUEZ It's always great that there have been people throughout history who have taken their little scythes and cleared a patch so that you don't have clear that when you get there. So definitely credit is due to them.

CARLOS SANTANA We need to celebrate our diversity, not to be afraid of it. That's who we are as Americans, we're street, we're cosmic mutts, you know? We're a combination of everything.

OSCAR HIJUELOS The most popular stars are emerging from all different quarters. So it's great that Jennifer Lopez is out there. The same is true for the other, Enrique Iglesias and Ricky Martin. They're but just the tip of the iceberg. And if their music or their artistry turns people on to what else is around them, then that's a beautiful thing.

ENRIQUE IGLESIAS (singing) Bailamos.
(Applause)

ANNOUNCER Next on "Latin Beat" … salsa singer Marc Anthony bets it all on his first English album. And the buzz is yes.

(Commercial Break)

JOHN QUINONES To understand the roots of Latin music, you have to understand the roots of the culture it comes from. Salsa singer Marc Anthony was born and raised in one of the toughest neighborhoods in America, Spanish Harlem. Now, we hear all about the bad side of life in the barrios, not nearly enough about the good. As a little boy, Marc Anthony was surrounded by a loving sense of family, community, religion. The soundtrack of that life? Salsa.
(interviewing) What is it about that beat, that Latin tinge that turns people on?

MARC ANTHONY It's organic. When you want to talk about drums, you want to talk about rhythms, there are just certain things that appeal to animal instinct.

JOHN QUINONES (VO) Whatever it is, it happens every time Marc Anthony takes the stage. With his Latino fans, he's already a huge star, the biggest-selling artist in the history of salsa music. Until Marc Anthony, no salsa record had ever gone gold in the US Now, all three of his albums have gone gold or better. He's the only salsa act to sell out Madison Square Garden, and he did it twice. Thirty-one years old with a voice critics compare to a young Sinatra.

SECURITY GUARD Step into the line.

JOHN QUINONES (VO) He has a very loyal following. From New York …

FAN IN NEW YORK I'm going to keep his picture by my bed every night.

JOHN QUINONES (VO) … to Los Angeles.

FAN IN LOS ANGELES He's going to marry me, he just doesn't know it yet.

JOHN QUINONES (on camera) These girls get crazy out there.

MARC ANTHONY Yeah. I'm just as excited as they are to be there. I really, really am, you know?

JOHN QUINONES And when the audience goes wild?

MARC ANTHONY I go wild. I go wild. You know, you walk out, and the love that they give you, I'm like … it can be extremely overwhelming. And I said, "Oh, all right. You want to give me that? Now, watch this."
(Singing in Spanish)

ALISA VALDES-RODRIQUEZ He's the best singer of the bunch by far. And that's what matters, I think, with him.
(Singing in Spanish)

JOHN QUINONES (VO) His last hit was a duet with Jennifer Lopez called "No Me Amos," "You Must Not Love Me." It's so popular it's being played on mainstream video channels even though it's in Spanish.

MARC ANTHONY (CLIP FROM "THE SUBSTITUTE")) One demerit? Do I have to write "I'm sorry" 10 times on the blackboard?

JOHN QUINONES (VO) If he looks familiar, it's because for years Marc Anthony has been acting in movies like "The Substitute" and the critically acclaimed "Big Night." He sang the theme song of the movie "Zorro"
with Tina Arena. And he played the lead in Paul Simon's short-lived Broadway musical, "The Capeman."

MARC ANTHONY (FROM "THE CAPEMAN") (singing) But they last for long. Summer nights.

JOHN QUINONES (VO) But Marc Anthony's roots are in the music he loves — salsa.

ALISA VALDES-RODRIQUEZ The roots of his music are basically go to any street in East Harlem and stand there and listen.

JOHN QUINONES (VO) And so we went to East Harlem to walk around the old neighborhood with Marc Anthony. We didn't get very far. Old friends and neighbors seemed to pour from the buildings. People asking him to sign everything from baseball gloves to telephone bills. Someone even shoved a cell phone in his hand.

MARC ANTHONY I'm a little busy right now.

JOHN QUINONES (VO) A car pulls up playing one of his songs on the radio. And then there was Sandy …

MARC ANTHONY Sandy!

JOHN QUINONES (VO) … a girl he serenaded when he was only 8 years old.

SANDY He used to drive me crazy. He'd sing, "Oh, Sandy," and what else? Yeah. I used to be, "Shut up!"

JOHN QUINONES (on camera) A lot of people when they leave a neighborhood, they don't look back.

MARC ANTHONY Leaving it is one thing, but leaving it behind is another thing. What's up? What's up, man? Oh! That guy's a troublemaker. Look at him. He's still, like, causing … causing a ruckus. He's coming with a bat.

MAN IN HARLEM He makes everybody proud in this neighborhood. We're proud of him. He made it from a rough neighborhood.

MARC ANTHONY It was the weirdest thing, because now I look back and they would protect me. These guys would protect me. They wouldn't let anybody mess with me because I was going to be somebody.

JAMES DE LA VEGA He's like a neighborhood prince almost.

JOHN QUINONES (VO) James de la Vega painted these murals in Spanish Harlem.

JAMES DE LA VEGA Just to make people take pride in what was happening.

JOHN QUINONES (VO) Among them, one of Marc Anthony. Despite all the graffiti in the neighborhood, no one has touched this painting.

JAMES DE LA VEGA I painted him knowing that people would respect his face on the wall.

JOHN QUINONES (on camera) You wouldn't be who you are if it hadn't been for this experience?

MARC ANTHONY Absolutely. The colors, the sounds of sirens, you know? The buildings, the people.

JOHN QUINONES (VO) Marc Anthony was only 12 years old when he got his first singing gig, a commercial in English.

MARC ANTHONY (singing) A Bumble Bee commercial. Bum-bum-bumble bee, Bumble Bee Tuna. I love bumble bee, Bumble Bee Tuna.

JOHN QUINONES (on camera) Tuna?

MARC ANTHONY I remember I made my first $20, I thought I was a millionaire. I was like, "Mom, whatever you want!"

JOHN QUINONES Who's been your greatest influence?

MARC ANTHONY My dad has to be my biggest, biggest inspiration. Because music is not just music. It's not a technical thing. It's about strength. It's knowing when to be weak and not being afraid to be weak. It's not being afraid of being strong. And I learned that from my dad.
(singing) They say around The way you've asked for me.

JOHN QUINONES (VO) Now he's going to need all the strength he can muster. His latest project is very different from what his salsa fans are used to. In just a few days, Marc Anthony, salsa's biggest star, will release his first album in English.

MARC ANTHONY (singing) Leave me All alone out here Wondering if you're ever Going to take me home.

JOHN QUINONES (VO) And he'll risk alienating some of his most loyal fans.

MARC ANTHONY (singing) Girl, you gotta Let me know which way to go Because I need to know. I need to know.

1ST FEMALE FAN A lot of people are like, "He's going to be a sellout. Because now he's going to do English, and you're never going to hear from him again in Spanish," and what have you.
(Cheering)

JOHN QUINONES (VO) It's the big night — Marc Anthony's big debut in English at Roseland. We join him at the concert hall just a few miles from his old neighborhood, but a world away.

MARC ANTHONY Tonight, I'm going to show them what it is that I've been working on for the past year and a half.

JOHN QUINONES (on camera) All right.
(VO) It's such a big night that Tommy Mottola, the head of Sony Records, is here. The sold-out crowd is anxious, and so is Marc Anthony.

ROSELAND ANNOUNCER I'd like to welcome Columbia recording artist, Marc Anthony.
(Screaming)

JOHN QUINONES (VO) He opens softly with a familiar set in Spanish.
(Singing in Spanish)
(VO) But then comes the real test.

MARC ANTHONY You know what part of the show it is now? It's time to sing some of the English stuff. So check it out, baby.

JOHN QUINONES (VO) You're watching an artist dive head-first into the mainstream.

MARC ANTHONY (singing) I remember How it used to be When you said you were In love with me. Now I'm all alone.

JOHN QUINONES (VO) But the moment he starts singing, it's crystal clear that no matter the language, Marc Anthony is a hit.