'Gary' grabs pair of thesps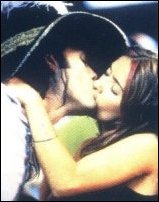 Vincent D'Onofrio and Salma Hayek have been cast in Cineville's "The Velocity of Gary," an offbeat ro-mantic-comedy love triangle that begins principal photography in New York City in early September.
Budgeted at less than $5 million, the indie feature will be directed by Dan Ireland from a script by James Sill, based on his one-man Off Broadway play. Dan Lupovitz produces, with Ireland, D'Onofrio, Carl Colpaert and Joe Simon serving as executive producers.
"Gary" casts D'Onofrio as a star of erotic movies who's involved with a waitress, played by Hayek. Their com-placent relationship is shaken up by the arrival of an on-the-make kid from Kansas named Gary. Thomas Jane, who portrayed Neal Cassady in the recent "The Last Time I Committed Suicide," has been cast in the title role.
The production reunites many of the key players of the 1995 Sundance-preemed "The Whole Wide World," which Cineville co-produced with Kushner-Locke. In addition to Ireland, D'Onofrio and Colpaert, other reprising team members include cameraman Claudio Rocha and film scorers Harry Gregson-Williams and Oscar-winner Hans Zimmer.
Ireland, a co-founder of the Seattle Film Festival, was a production exec with Vestron and Cineville before mak-ing his directing debut with "World," which co-starred Renee Zellweger and was released domestically by Sony Pictures Classics.
Of "Gary," Colpaert said: "This is precisely the kind of film we want to make because it's daring and noncon-formist. Those are the qualities in the independent market that you need to be able to break out and cross over."
D'Onofrio, currently doing heavy duty in "Men in Black," will be seen this fall in the title role of "Guy." Hayek, a winner of the Mexican Oscar, has starred in such Stateside pictures as "Desperado" and "Fools Rush In," and segues into producing and starring as Frida Kahlo for director Roberto Sneider, following "The Velocity of Gary."