The naked truth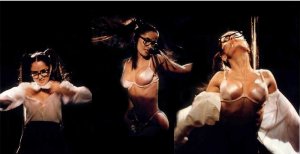 Face it, Brooke, when it comes to stripping off for movies, Salma does it so much better...
Who says guys don´t make passes at girls who wear glasses? They do if it´s Salma va voom Hayek doing a Demi Moore on the set of her new movie Dogma. Salma plays heavenly stripper Serendipity in the biblical comedy which is already causing a stir with American religious groups - who haven´t even seen it yet.
Directed by Kevin Smith --whose films include the off-beat love story Chasing Amy - Dogma also satsr Hollywood heart-throbs Matt Damon and Ben Affleck as two fallen angels, Loki and Bartleby, who try to get back into heaven.
Along the way, the pair encounter a non-practising Catholic abortion clinic worker (Men in Black´s Linda Fiorentino), a winged messenger of God( Alan Rickman) and Salma Hayek as a saved-up Muse. US comedian Chris Rock also stars as a foul-mouthed 13th Apostle who says Mary didn´tstay a virgin, and singer Alanis Morissette makes an appearance as God.
Dogma, which had its world premiere at the Cannes Film Festival, reportedly features fart jokes, foul language and violence, and also boasts a gigantic satabic monster made entirely out of human excrements,
Smith claims he doesn´t think Dogma is going to cause any controversy. "The movie is too adolescent to be taken seriously," he said at a press conference.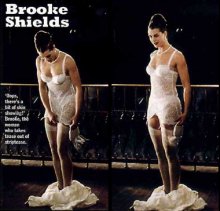 Also taking her clothes off is Brooke Shields in The Bachelor. However, far from being sexy, Brooke could do with a few tips from Salma to help her brush on her stripping technique. Compared to the barely-there G-string Salma "wears", Brooke looks fully dressed. And the choreography ... simply dropping your dress and revealing long lace underwear isn´t going to do it and the pearls, darling, have got to go.
In the film, Chris O´Donnell plays a bachelor who must marry within 24 hours in order to inherit $100 million from his grandfather. Brooke plays his suddenly interested ex-girlfriend, obviously doing her best to win back his affections.
Also starring in the feel-good romantic comedy - an updated version of Buster Keaton´s 1925 silent film Seven Chances is Jerry Maguire star Renee Zellweger, Babe´s James Cromwell and singer Mariah Carey in her first official screen role. The singer, who has been desperately trying to get a toe-hold in Hollywood, will appear in "an extended cameo" playing Llana - an opera singer and potential bride.
Story: Pip Harry