Hayek Says 'Si' to Spanish Pic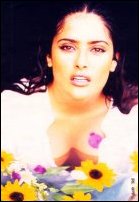 Wednesday December 22 2:54 AM ET
By John Hopewell and Christian Moerk
MADRID (Variety) - Mexican-born actress Salma Hayek will shoot a movie in Spain for the first time next month, when she stars in a Spanish-language comedy called "La Gran Vida'' (The Great Life).
Hayek will play Lola, a Mexican waitress working in Madrid who befriends a 30-year-old suicidal man (Carmelo Gomez, ''Vacas''), who has borrowed $1 million to blow on his last day on Earth, knowing he'll be killed anyway if he fails to return the dough. Having met Lola, however, he decides that life may be worth living after all.
Budgeted at about $4.3 million, a decent sum by local standards, the film will shoot in Madrid for nine weeks, starting Jan. 27. It will mark the feature film debut of local TV director Antonio Cuadri. The independent picture has no distribution yet.
Hayek is currently in theaters with Kevin Smith's "Dogma,'' playing a stripper.