Sole Diva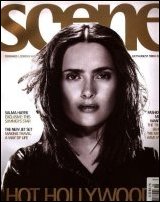 Click here for exclusive pictures included in this magazine.
Salma Hayek puts Mexico on the Hollywood map
By Christopher Hemblade
The diminutive Salma Hayek (5ft 2in tall) cuts a commanding figure as she blows kisses from a vintage car sliding along the Croisette. A well turned-out Englishman tags behind, filming her with his hand-held camera. The Mexican temptress is in starlet mode. As she waves to the mass of breathless idiots flanking her, a phalanx of beady-eyed, sweaty-faced paparazzi snap away, recording the CNN-worthy news of a little Mexican film star in a bust-thrusting lilac dress grabbing the limelight at the 52nd Cannes International Film Festival. 'Never seen anything like it,' says one old hand, 'only Elizabeth Taylor generated this kind of insanity.' You can understand their enthusiasm -- any film featuring the smouldering, cigar smoking ingenue from Desperado and From Dusk Till Dawn is guaranteed to sell. She's the kind of pin-up fantasy figure that the Internet fan-page was invented for.
'It's so crazy here,' she says. 'Someone's going to get run over. It's different from LA where people are used to seeing stars. I've always been lucky in that Marilyn Monroe way with fans -- even if the studios haven't been keen. This is my third visit here as an actress and first as producer. But away from the fans, I'm mainly here to sell.' It hadn't escaped our notice...
Aside from the interviews, business meetings and premieres during her Cannes sojourn, there is the small matter of dealing with her 'stalker'. 'Oh my God, he has been driving me insane with his camera. I have a starring role in his private documentary about how crazy this place is. He's shooting it for himself, but everything is a deal here, so someone has even tried to buy it. I love the cameras so much I can't concentrate' she purrs, campishly. The stalker, by the way, is none other than boyfriend and one-time The Hunchback co-star Edward Atterton -- whom she courted while on set.
Cannes is the starting block for a summer that will see her race into the media glare. This is going to be Hayek's year. The cult following she has established through collaborations with Robert Rodriquez in Desperado and The Faculty is set to expand to mainstream adoration as she turns up in four new movies. As well as roles in Waiting For The Colonel and The Velocity Of Gary, there are the high profile appearances in Kevin (Clerks) Smith's Dogma alongside Ben Affleck and Matt Damon, and in Barry Sonnenfeld's big-budget comedy Wild Wild West, featuring the impressive triumvirate of Will Smith, Kenneth Branagh and Kevin Kline. 'I play a temptress called Rita Escobar, and although they made me audition for months, they ended up expanding my role from two to 18 scenes,' enthuses Hayek proudly.
Gathering her silk wrap about her caramel dress, she settles down on the terrace of the Grand Hotel, the definitive movie-star backdrop. 'I'm not into the drug-addict look; I love glamour.' That film executives should now be grabbing at her should come as no surprise, but it was not always thus. The creation of Salma Hayek, international superstar, was a long time coming. 'I had some tough times trying to establish myself as a film star. Hollywood is not great with women and especially not Mexicans. I left the security of being a huge name in Mexico as a TV star in the daytime soap Teresa to start all over again in Los Angeles. I had to learn the language, do acting classes and take parts as an extra. People asked me if I felt humiliated testing for small roles after being so famous in my home country, but I said no.'
For a Mexican to come so far is a first this century. The history of Latin success in Hollywood is chequered to say the least... First, Dolores Del Rio was given a lease of life alongside Valentino and Roman Navarro in the silent movies of the 20s. But her star waned when the talkies came in. In the 40s and 50s, there was Katie Jurado, who appeared in many of the John Wayne Westerns. The saddest story of all was that of Lupe Velez, who was at one time married to Gary Cooper. The B-movie Mexican spitfire committed suicide in 1942, following years struggling to find appropriate roles.
'The Mexican men were portrayed as mean men with gold teeth, while Mexican actresses were always deployed as token figures in Westerns,' says film historian David Parkinson, author of The History Of Film (Thames & Hudson). 'It was forbidden for Hollywood to show cross-racial relationships, so the Mexican actress ended up being the prostitute or the one who was shot protecting the hero, who then left her behind so he could go off with the safer option of the blonde stable hand.' In particular, it was audiences in the Deep South who flinched at seeing non-white American women winding up with the hero.
'And now we always play the maid, although it's getting better,' sighs Hayek. 'Mexicans are not the most welcome outsiders in America. I remember going to audition for a sci-fi [film] and the studio being aghast at the idea of a Mexican in space. One casting director even told me I should take advantage of my Middle-Eastern sounding name and pretend I was Lebanese. The accent is the big problem.'
What film makers don't mind casting her as is the sex goddess. 'I don't mind playing sexy, but I am against characters being written as though there was nothing else to them,' says Hayek. She served as an erotic entanglement for Banderas in Desperado and as a snake charming vampire in From Dusk Till Dawn. This is why she has, so far, aside from a forgettable romantic lead in Fools Rush In, been penned off as totty fodder for men rather than a woman's woman. 'I love being a woman, because you get to have a man. But I have a following that sees me as sexy. It's fine until they put me on the Internet, naked with some other woman's breasts superimposed, that upsets me. They ask me rude questions like how big Banderas' penis was and what I'd do if I had a penis for the day. But still...'
Hayek is resigned to being 'sultry sexy Salma Hayek' and is grateful that Rodriguez could draw such attention to her. Her forerunners weren't even allowed to be sexy. 'The early Mexican actresses were mainly regarded as glam rather than sexy. Especially since they were often token religious figures,' explains Parkinson. 'The Mexican didn't fit in with the stereotypical idea of beauty,' adds Leslie Felperin, deputy editor of Sight & Sound magazine and an outspoken commentator on the portrayal of women in Hollywood. 'Grace Kelly was the pure, white American ideal and Gwyneth Paltrow, although Jewish, continues that tradition today.'
Whatever. It would be disingenuous to suggest Mexican actresses still suffer to the same degree. Firstly, independent film makers (of which Rodriguez is key) have allowed American cinema to become more cosmopolitan. Secondly, there is now a huge Hispanic audience (in LA, predicted to outnumber that of indigenous Los Angelenos by the year 2030) to establish stars like Hayek. In any case, Hayek's rise is not one of triumph over adversity: 'I though I was a princess, I lived in a castle and my father was a king. I wore tiaras; I was born diva-ish.'
Born in the south-eastern Mexican town of Coatzacoalcos in 1969, her father, Sami, was of Lebanese descent, and made his fortune in the oil industry. Her mother, Diana, had a passion for singing. 'She was a talent scout and for ten years was involved in giving scholarships, a place to live and classes for aspirant singers. But she had nothing to do with my career.'
Hayek has one brother to whom she is very close. 'He gets so protective when fans follow me. He would be the one who punched someone while my boyfriend would hear the other side of the story first.' The siblings spent their childhood going on water-skiing jaunts and riding their own horses.
Her grandmother is a fortune teller and, although Salma holds no truck with superstitious stuff, she was forced to eat her words when her grandmother's predictions came true. 'Usually she goes on about me getting married (groan), but she was responsible for pushing me to re-audition for Wild Wild West. She was convinced I would get it and, without her, I don't think I would have bothered.' Hayek paints a cosy picture of familial life, replete with emotional phone calls, lovely dinners ... you know the sort of scene. 'I don't do the Hollywood thing, although I see Renee Zellwegger and Ashley Judd when they're in town. George Clooney is a friend. I prefer cooking dinner or playing Taboo...'
Hayek was studying for a degree in international relations and drama at a university in Mexico City when she got her first taste of acting, in an amateur production of Aladdin. 'I'd always wanted to be an actress. When I left school to pursue it, my parents didn't take it lightly. My friends thought it was the tackiest thing they'd ever heard.' She was spotted by a producer who cast her in the soap which led her into the TV limelight. Rodriguez was later to see her on The Paul Rodriguez Show and start her on a path to fame.
Hayek alludes to a troubled time in her early 20s, 'being confused and insecure' for a couple of years. She claims she didn't have a boyfriend for five years. 'I am very different with Edward -- I am very fragile with him, whereas I am extremely strong out there in business.' She is tough to the point of being a self-proclaimed 'control freak'. 'I am not sentimental, and even if you say something that should make me cry I can convince you you are wrong.' But the Latin tag can still upset her. '[Actress/singer Jennifer] Lopez isn't Mexican, she grew up in New York. She is a wonderful actress, but she doesn't have the same handicap as me because she can turn the Latin thing on as, and when, it is appropriate. It is more difficult for us actresses with the accent,' says Hayek. But Leslie Felperin is quick to dismiss this: 'Salma won't thank me for saying it, but she has no disadvantage compared to Lopez. She is articulate in both languages and, if anyone is at fault, it's her agent, not Hollywood. In the roles she's done she's been great -- she has got so much charisma -- but she has done some shitty films.'
What's significantly different this year is that her roles are good. In Dogma, she plays an angel who inspires artistic geniuses. God lets her come down to earth to be an author and then she gets writer's block. The film is rumoured to be so controversial -- what with foul-mouthed apostles, a discussion of whether Joseph and Mary had sex -- that Hayek (who is Catholic) is expected to be embroiled in hot water with the Church. 'I'm not a good Catholic girl. I'm fascinated by the dark side of human behaviour because we all have it.
Aside from her on-going commitments with H&M, the clothing chain which has put Johnny Depp and Patricia Arquette into their campaigns ('I didn't have a movie and I though I might never work again so I took the campaign') and as spokesperson for Revlon, she is to defy expectations by taking on her most feminist project to date, a biography of painter Frida Kahlo. 'I am not a rebel but I like to go against what people expect of me. This is a pet subject I could talk about all day. Kahlo lived life as an art-form. She was a controversial feminist, a bisexual, a fighter and a communist and yet had all the qualities of a traditional Mexican woman. Her body was broken but her soul was indestructible.'
After this, there is the business of producing seven shows for TV ('I hope to make Latin actors part of the universe') and a role as a police officer in a comedy with Jeff Goldblum called Shiny New Enemies. 'I've always wanted to do more comedy, but they never seem to give comic parts to the pretty girls.' She is magnanimous about all the hype currently surrounding her. 'Let's see what happens. I just hope I am an inspiration to anyone who has been told, "No, you can't do that" and has been laughed at for having a dream...'