Salma Hayek shoots straight about enticing tarantulas, breaking commandments, and nearly losing Wild Wild West
Is this the kind of gear Vampira wore when Ed Wood first spotted her? Sporting the de rigueur bustier, black mesh stockings, and dominatrix boots, Salma Hayek is crawling up onto a lethal-looking metal contraption that seems appropriate for birthing Rosemary's baby. A few yards away, the storyboard sketches which an almost all-male crew of 50 keeps ogling show her bound and gagged on this bed of last resort, the size D cups on her cartoon chest ready for space travel. Also nearby, a troupe of tarantulas are waiting for their chance to meet the curvy actress.
Has anyone mentioned that it's 1:30 a.m.?
Hayek's bodacious appearance today on Warner Bros.' Soundstage 16 is a favor to her friend and Wild Wild West costar Will Smith. Though their $100 million-plus summer movie (director Barry Sonnenfeld's version of the classic '60s TV series) wrapped months ago, Smith is doing his bit to ensure an even bigger box office by singing the title track. And Hayek agreed for free, no less to play the video's vixen.
So let's be honest: Would Smith crawl up onto a bed half-naked, ready to be bound, his limbs spread into a human web of fear and desire, for a music video?
Sometimes a man doesn't even have to think. "I'd have to invoke my producerial strength at that point to get in a rewrite," he laughs.
Hayek, who forages elsewhere on the Hollywood food chain, resorts to soft diplomacy to make herself understood. "I have arachnophobia and I'm claustrophobic. Take your pick," she announces in very certain terms. In other words, she'll do potential poisoning or rough bondage, not both.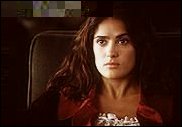 And so twenty happy tarantulas get their SAG cards. Jules Sylvester, a reptile and spider wrangler from Kenya, quickly places some of the planet's hairiest, leggiest creatures all over Hayek's nearly naked body. The mesh stockings and virtually nonexistent bodice offer no protection, so she begs Sylvester to set a few critters on the hard leather of her corset, just for comfort's sake. Finally, all four cameras rolling, her considerable bosom heaves and her five-foot-two-inch frame writhes. Suddenly, as the spiders play hide-and-seek in any body crevice within crawling distance up her neck, down the veritable valley of her cleavage she lets go with a William Castle scream.
And just think: Sonnenfeld didn't even want her for Wild Wild West.
'Salma is like Lucille Ball," says Sonnenfeld. Which doesn't exactly explain why he put her through multiple auditions and six months of cuticle-tearing to land the tailor-made role of Wild Wild West's femme fatale, Rita Escobar.
Why did the director of such contemporary comedy classics as Get Shorty and Men in Black think it such a stretch for an actress from Coatzacoalcos, Mexico, to play a Latina spitfire?
"Never, never, ever did she have an audition that convinced me it would work out," says Sonnenfeld. "I was really worried. You can't sit on things in comedy. The hardest thing about comedy is making the actors speak fast enough. Faster. Faster. Each time Salma auditioned, I was concerned whether or not she'd go where I needed her to go."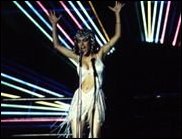 (Apparently Sonnenfeld hadn't heard about the actress's daredevil comic talents on the set of last year's 54, when Hayek turned the rehearsal for costar Breckin Meyer's first screen shag into an X-rated farce. It seems that while he was dry-humping her, his face took on the oddest expression. A laughing Hayek whipped an oversize gold dildo from her pants, pilfered from a Greek statue on the disco set.)
Smith, for his part, left all the doubting to Sonnenfeld. The actor wanted her for Wild Wild West from the beginning, even though they'd met only once before backstage at the 1996 MTV Movie Awards, after Hayek lost in the coveted Best Kiss category to the Species character. ("I'm a helluva kisser, but I can't beat the tongue going through some guy's head and killing him," she cracks.) This girl is going to be large, he thought.
"I'm attracted to warm energy," says Smith about Hayek. "The thing about comedy is, you have to relate to someone in order to find their comedy funny. We feel closer to people who make us laugh. I had that with Salma."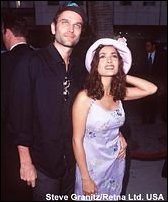 Sonnenfeld ultimately hired the actress on faith. Now he's saying more mea culpas than a priest on Good Friday. "What's shocking is how well it worked out," he says. "I thought I'd figure out how to make her funny. And then it turns out I didn't have to. She got it right away."
The two formed a close bond and left the set with rather, er, unique memories. "He wants you to smell his finger right after he rubs behind his ear because it smells like cheese," Hayek says of his unusual directorial style.
"My five-year-old, Chloe, would just want to stroke Salma's breasts and touch her behind," Sonnenfeld says of Hayek's effect on people. "It was quite embarrassing. Salma said that all little girls want to do that with her, because Salma is a perfect little girl tiny, but she has breasts and a body and everything. She said we shouldn't make Chloe feel embarrassed about wanting to spend all her time being hugged by Salma. And the truth is, very few people don't want to spend all their time being hugged by Salma. I was quite jealous of Chloe."
The day after her spider frightfest, Hayek emerges from the shower of her Hollywood Hills home, all freshly scrubbed, her wet hair pulled back. She looks infinitely softer and about a decade younger than movie directors would ever perceive her to be. That she's turning the big 3-0 this September doesn't seem to be putting a crimp in her year. "I have a maaahn who loves me!" she cries, arms flung out to a merciful God, referring to British actor Edward Atterton, whom she met on the set of 1997's The Hunchback. She also mentions the positively glorious state of her career, albeit with somewhat less urgency. (In addition to Wild Wild West, she recently completed work on director Kevin Smith's Dogma, the controversial religious satire with Ben Affleck and Matt Damon.)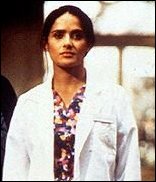 Though she's enjoying her current high-rise status, Hayek has had a hard time getting here. The daughter of a well-to-do businessman from Veracruz, she starred in a popular Mexican soap opera, Teresa, before making her way to Hollywood in 1991, at the age of 22. A couple years later, a few episodes of the short-lived sitcom The Sinbad Show and a single line in Allison Anders's Mi Vida Loca were about all that graced Hayek's Yankee resume. Even her appearance on Univision's The Paul Rodriguez Show seemed ill-fated: The gabfest had been delayed three months before the Spanish-language network got around to airing it. Fortunately, director Robert Rodriguez and his wife, producer Elizabeth Avellan, happened to be channel-surfing in bed that October eve seven years ago.
"She was so ballsy on TV, saying how the state of the entertainment industry was toward Latinas," the director recalls of their very first Salma sighting. "She didn't take any shit from anybody. I wanted to put Salma onscreen just the way she was."
Rodriguez had been searching for a Latina leading lady to play opposite Antonio Banderas in Desperado. It should have been an easy decision: Who else was there? The last name actress to emerge from Mexico had died nearly a decade earlier and besides, Dolores Del Rio's Hollywood career had peaked with silents and tanked shortly after Al Jolson first sang "Mammy" for the cameras. Although the studio wanted a name for the role, not to mention "blondes, which made no sense," the director finally got his way. After the film wrapped, Hayek thought she could relax.
"I said, 'I've made it! This is it!' " she recalls. And then? "I couldn't get arrested." Although Rodriguez put her to work again, in his 1996 vampire update From Dusk Till Dawn in which a nearly naked Hayek memorably table-danced with a python she mostly had to settle for throwaway roles, in movies such as the Cindy Crawford vehicle Fair Game. In fact, there was a time when the actress had to borrow $6,000 from good friend Avellan just to stay afloat.
Although she kept working (e.g., Fools Rush In, 54, the just-released indie The Velocity of Gary), the routine of the Kewpie doll from Tijuana began to pall on the actress. "Yes, yes, I was tired," Hayek says before quickly dismissing the subject altogether. "But not anymore. I'm doing Frida!"
The long-languishing project about Mexican artist Frida Kahlo has finally come to life, after much jockeying. Mark Gill, president of Miramax in Los Angeles (the studio behind the movie), recalls an earlier time, when first Laura San Giacomo and then Madonna were attached to the project. "Back then, Salma Hayek was unknown outside of Mexican soap-opera circles," he remembers, "but she would call every other day trying to get an audition. She's had a passion for this project for a long time."
Most gringos probably know only two things about Kahlo, who died in 1954: She famously sported a unibrow, and she got it on with girls as well as with boys.
Well? "Of course," Hayek says of giving screen time to the women in Kahlo's sex life. "You bet!" (The film will also emphasize her marriage to fellow painter Diego Rivera.)
The actress is something of a proud veteran when it comes to racy onscreen love scenes. "I've never found in the Bible where it says you cannot do movies where you kiss the guy and take your clothes off," she says, perhaps thinking of a few moments in Desperado. Miraculously, a statue of St. Joseph over in the corner doesn't start spurting blood when she adds, "Forgive me, God, but I was not thinking about You when I was naked with Antonio."
And as for her girlhood education with the nuns, she knows just what to do with it in fin-de-siècle Los Angeles. "Do I go to church every Sunday?" she asks. "No. Plus I live in sin, with a man. And I very strongly believe in condoms. Maybe it is a sin to have sex, but if you're going to sin, then sin properly and use a condom." With a shrug,she concludes, "So, I'm not a good Catholic."
What Hayek might be, under the bombshell exterior, is a serious businesswoman. Frida, which has secured a September '99 start date, is a coproduction between Miramax and the actress's production company, Ventanarosa (meaning "pink window"). With Hayek at the helm, the company has already produced the screen adaptation of Gabriel Garcia Márquez's El Coronel No Tiene Quien Le Escriba (No One Writes to the Colonel) which is currently in competition at the Cannes film festival and recently signed a deal to create TV shows for Columbia TriStar TV and the Sony-run Telemundo network. At present, a Spanish-language TV docudrama series on the lives of Roman Catholic saints looks like it might be first out of the gate.
Although it's doubtful she'll play St. Teresa anytime soon, Hayek insists, "I'm creating my own projects, so I can choose parts that are closer to me." It is totally without anger when she explains that "all this stuff you've been seeing me in is a stretch. They're not well-structured characters. I have to come in and make something out of nothing, most of the time."
Her champions say Hayek has the right instincts to make it happen. Avellan calls the actress "central station for Mexican filmmakers. She befriends them. She throws small dinner parties so they can get to know each other."
"Salma will be an important producer," Sonnenfeld says. "She is very ambitious not in a sneaky way, but in wanting to produce and in caring about people and [being] sensitive, [but] with a point of view."
As with any good actress, Hayek is prone to making her important points with action, not talk. For example, when the subject of Kahlo first comes up, she produces Polaroids of herself in full makeup and costume. (One can only imagine what the execs at Revlon will make of her lone furry eyebrow.) On the subject of brother Sami's renovation of her home (from a '50s tract house to an exotic Mexican hacienda), she produces a book of pre-overhaul snapshots. And as for any animosity between her and director Gregory Nava who has made two films with Hayek's perceived Latina rival Jennifer Lopez she does not rise to the bait of a heat-seeking question. Instead, she pads into her bedroom, returning with a large figurine of Kahlo, its shoulders laden with the artist's signature black monkeys.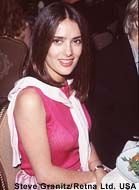 "Gregory gave me a lovely present," she says in admiration of the statue.
Hayek pushes the gift aside and moves on to what people sometimes call the Big Picture. "It's not about one film," she explains carefully. "It's about a career. It's about Bette Davis. You can't say if someone has this great career until they are dead. Otherwise, it is just moments. And there is only one thing you can be sure of: At some point it is going to end.
"This is very interesting, what I'm going to tell you," she adds, suddenly speaking as if it were her listener and not she who is communicating in a second language. "I've come to the point where, if Hollywood doesn't give me the parts I want, I'm at the place where I can supply them for myself. Because I do believe in myself even if they don't."