Hayek + Norton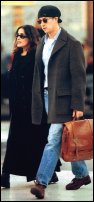 If you had a hard time picturing quiet-but-intense actor Edward Norton with the look-at-me exhibitionism of Courtney Love (the two got together on the set of The People vs. Larry Flynt), then you may have to sit down when you hear who the twice-Oscar-nominated star is seeing now.
Ready? None other than Mexican sexpot Salma Hayek is in Norton's corner, says the New York Daily News, which claims they've been a couple for a few months already.
Well, we know what he sees in her, but how does the unassuming Norton do it? If you haven't caught his Method intensity in American History X, which earned him a surprise Best Actor Oscar nomination, run don't walk to your video store now.
Norton, who's been linked, however unreliably, to Drew Barrymore and Cameron Diaz, reportedly broke up with Love earlier this year, although the subterranean nature of the relationship makes it hard to pin that down.
Hayek just ended a serious two-year relationship with Edward Atterton, her co-star in the 1997 TNT movie The Hunchback. The actress's rep did not return calls to the Daily News, and Norton's agent says he does not comment on his client's personal life.
Hayek, now appearing as a muse in Dogma, should feel safe dating Norton. Norton's that rare thing for an actor, a true gentleman. He has refused to confirm that he even dated Love, let alone dish on life with the grunge queen. Since Norton's only film this year was David Fincher's Fight Club, we might not be seeing him, or Hayek, at any major awards ceremonies this year, our favorite occasion to spy on the stars and their mates.