Liquid Audio, Screen Gems and Milan Entertainment to Release First Exclusive Commercial Full-Album Download of the Soundtrack From the Film 'Time Code'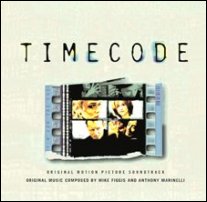 Soundtrack to Be Available for Purchase Via Liquid Audio's 800 Affiliate Web Sites Including Broadband Sites
REDWOOD CITY, Calif. and CULVER CITY, Calif., June 1 /PRNewswire/ -- Liquid Audio, Inc., a leading provider of software and services for the Internet delivery of music, Screen Gems/Sony Pictures and Milan Entertainment today announced that the soundtrack to the new film "Time Code," will be the first major studio soundtrack to be distributed as a commercial full-album download over the Internet. The "Time Code" soundtrack is available for download exclusively via Liquid Audio through the Liquid Music Network(SM) of over 800 affiliate Web sites beginning today and broadband beginning June 19, 2000. The full-album download will only be available as a bundle of 11 tracks for a suggested retail price of $13.98.
Scored by Director Mike Figgis and co-Composer Anthoni Marinelli, the album features recordings from Skin (vocalist for Skunk Anansie) and Everything But The Girl. The full-album download has also been customized to feature photos, information about the film and links to both the official "Time Code" Web site (www.sony/com.timecode) and Milan Records Web site (www.milanrecords.com). In addition to the for-sale full-album download, a free promotional download of Skin's single, "Comfort of Strangers" is also available.
"Time Code is a groundbreaking film, shot in real time, with no edits and is 100 percent digital," said Charly Prevost, vice president of marketing and promotion at Liquid Audio. "The full-album commercial download of the entire soundtrack is consistent with the innovative nature of the film. Liquid Audio is making this content available through the 800 affiliate Web sites in the Liquid Music Network."
The "Time Code" full-album download is at the forefront of an entirely new system for the online distribution of soundtrack albums and other musical recordings, not replacing traditional methods of physical distribution, but enhancing the options available for both distributors and consumers. Prior to this release, no other major motion picture studio has offered a full-album digital download.
Milan Entertainment, Inc. released the physical soundtrack to "Time Code" through its Milan Records division on April 18. Mike Figgis was on hand on Friday, April 21, to personally sign copies of the album at Tower Records Sunset in Los Angeles, which was one of the backdrops in the film. Milan's distributor, BMG, will distribute the soundtrack throughout the world to traditional brick & mortar retailers.
"We excitedly step into the stream of this new technological system to deliver the soundtrack album for this most innovative motion picture," said Bob Holmes, executive vice president of the Music Group of Sony Pictures Entertainment. "This further advances the manner in which music written by our great film composers can be delivered to a world of customers eager for change."
"My primary objective in releasing this soundtrack was to keep true to the spirit of this provocative film," said Russell Ziecker, president and chief operating officer of Milan Entertainment, Inc. "We are particularly excited to be working with Liquid Audio on this release. Since the movie was filmed in a digital medium, it only seems appropriate for the music from the soundtrack to be available via digital download, thus supporting the spirit of the entire project."
"Time Code" is an exciting, innovative new film project from acclaimed director Mike Figgis that breaks all the rules. Part of Figgis' daring evolution towards the ultimate in minimalist film production, the film was shot in one day entirely with hand-held digital video cameras in sequence, in real time with no editing. The plot -- a black comedy thriller set against Los Angeles lifestyles -- literally unfolded before the cameras as the actors each improvised their character's storyline based on the central elements of an affair, a murder and an ensuing Hollywood mystery. Four main characters are at the center of the plot: Stellan Skarsgard is a motion picture executive; Saffron Burrows is his wife; Salma Hayek is an aspiring actress in the midst of an affair; and Jeanne Tripplehorn is a woman whose actions will alter all their fates. For more information, please see www.sony.com/timecode.
About Liquid Audio
Liquid Audio, Inc. is a leading provider of software and services for the digital delivery of music over the Internet. The Liquid Audio solution gives musicians, record labels, Web sites and music retailers the ability to publish, syndicate and securely sell recorded music online with copy protection and copyright management. Using the Liquid(TM) Player software, available for free download at www.liquidaudio.com, music fans can preview and purchase downloadable music from the more than 800 affiliate Web sites in the Liquid Music Network(SM). Traded on Nasdaq under the symbol LQID, Liquid Audio is located in Redwood City, California.
About Screen Gems
Screen Gems was established as a new distribution label under Sony Pictures Entertainment in December 1998. Recent releases include "Arlington Road" and "Black and White." Screen Gems most recently announced production on the John Carpenter film "Ghosts of Mars" with Courtney Love and Ice Cube, and acquired the Sundance 2000 Grand Jury Prize winner "Girlfight," which is planned to be released in September.
About Milan Entertainment
Milan Entertainment, Inc. has a proven dedication to releasing quality soundtracks for film and televisions projects. Its catalog includes such notable releases as "Gettysburg," "The General's Daughter," "Ghost," "Bed of Roses" and "Mickey Blue Eyes." Milan's new and upcoming releases include "Rules of Engagement" by Mark Isham, "Passion of Mind" by Randy Edelman, "Sunshine" by Maurice Jarre and compilation soundtracks for the films "Crime & Punishment in Suburbia" and "The Tao of Steve." An independently owned operation with international distribution through BMG Music, Milan Entertainment has offices in both Beverly Hills, California and Paris, France.
NOTE: Liquid, Liquid Audio, Inc., Liquid Audio, the Liquid Audio logo, Liquifier and Liquid Music are trademarks of Liquid Audio, Inc. For more information about Liquid Audio software and services call 1-888-liquid-0 or visit http://www.liquidaudio.com .