Salma Hayek, Altavista take "Heart"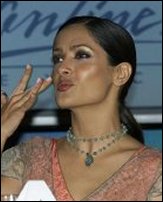 Altavista Films has optioned the international bestseller "Tear This Heart Out" as a starring vehicle for Salma Hayek, with her company Ventanarosa Prods. aboard to produce.
The novel, by Angeles Mastretta, one of Latin America's foremost writers, is an epic love story set against the Mexican Revolution. Hayek would play the title role of a beautiful headstrong young girl who, in 1930, is seduced and falls in love with a retired general who has just begun to rise in the political ranks in Mexico. She soon learns that her husband is not only an adulterer, but also a murderer. The material is described as lustily romantic.