Hayek Slams Bias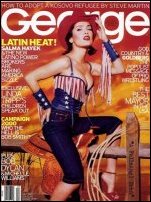 Friday, June 18, 1999

Actress Salma Hayek says Hollywood has an anti-Mexican bias.
"When I asked a producer to consider casting a Latina as a fashion editor, he told me a Latina might be all right in the role but definitely not a Mexican," recalls Hayek. "People around here think that Mexicans are lazy and have no style."
Will Smith's co-star in "The Wild, Wild West" bares her feelings (and more) in the July issue of George. Hayek celebrates Independence Day by straddling a huge firecracker and dressing up in sexy cowgirl and Miss Liberty garb.
It's no wonder she looks good. Hayek employs a staff of 20 to cater to her needs.
"[Miramax honcho] Harvey Weinstein calls me a Mexican JAP," laughs Hayek, "because I like nice things, and I'm not easy to manipulate."