Lions Gate picks up Dogma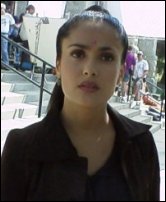 Kevin Smith's new religious-themed pic Dogma seems to be the hot potato no distributor can hold onto.
First Miramax passed on the movie — which features pop singer Alanis Morissette as a female God — after parent company Disney found it to be too controversial. Miramax honchos Harvey and Bob Weinstein bought the negative and film rights in April, but Dogma, which will play this year's New York Film Festival, has languished without a distributor. Now unconfirmed reports have surfaced that Lions Gate, which found success with another hard-to-market indie, Gods and Monsters, has picked up the film.
The current issue of Entertainment Weekly reports that Lions Gate is "expected to become the film's savior," but the small distribution house won't talk about the status of Dogma's distribution to anyone, including Mr. Showbiz.
Lions Gate Releasing co-president Mark Urman told Mr. Showbiz that Dogma is a "wonderful movie that will make a lot of money."