Salma confesses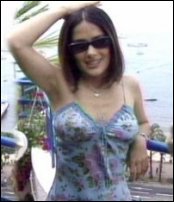 Salma Hayek is the first to confess that her Hollywood career and lifestyle doesn't exactly mesh with her upbringing, which included a Catholic school education.
"Do I go to church every Sunday? No," the actress tells Premiere magazine. "Plus, I live in sin, with a man [The Man in the Iron Mask director Edward Atterton]. And I very strongly believe in condoms. Maybe it is a sin to have sex, but if you're going to sin, then sin properly and use a condom."
As for her movies, Hayek argues, "I've never found in the Bible where it says you cannot do movies where you kiss the guy and take your clothes off." Of her steamy scenes with Desperado co-star Antonio Banderas, Hayek says, "Forgive me, God, but I was not thinking about You when I was naked with Antonio."
"So," she concludes, "I guess I'm not a good Catholic."
She is a highly popular starlet, as 200 frenzied photographers proved. Hayek, who is currently at the Cannes Film Festival promoting the Kevin Smith religious satire Dogma (she plays a stripper), created such havoc among the paparazzi that the New York Post reports one Cannes vet said, "Only Elizabeth Taylor ever generated this kind of insanity."
The press loves her, as do little girls, it seems. Hayek's Wild, Wild West director Barry Sonnenfeld tells Premiere, "Chloe [his 5-year-old daughter] would just want to stroke Salma's breasts and touch her behind. It was quite embarrassing, Salma said that all little girls want to do that to her, because Salma is a perfect little girl."
Sonnenfeld adds, "She said we shouldn't make Chloe embarrassed about wanting to spend all her time being hugged by Salma. And the truth is, very few people don't want to spend all their time being hugged by Salma. I was quite jealous of Chloe."