Columbia Eyes Hayek´s "Vida"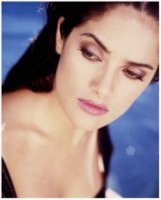 CANNES (Variety) - Columbia TriStar is in advanced negotiations to take worldwide rights outside Spain and Italy on the Salma Hayek starrer "La gran vida."
The film is in post-production.
"La gran vida" (The Great Life) marks Hayek's first incursion into Spanish (as opposed to Mexican) filmmaking.
In his bigscreen debut, Spanish TV director Antonio Cuadri began shooting the picture in January in Madrid. Columbia TriStar, which has been tracking the project closely, is making the purchase on the strength of the rushes, the script and the cast. The $4.3 million budget is high by Spanish standards.
The picture is about a man on the brink of suicide, who falls for a waitress (Hayek) and finds he's got something to live for.
Although sexy, the comedy is relatively innocent by the standards of Spain's often priapic cinema. This means Sony will be able to pitch it to a family audience, a demographic that the studio could be especially interested in exploring in the U.S. Hispanic market.