Celebrities dish out good will for Thanksgiving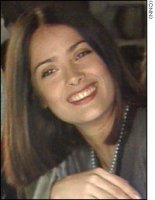 26 November 1999 - (CNN) -- It was a day of giving for many celebrities on Thursday.
"Godfather of Soul" James Brown continued his Thanksgiving Day tradition by sponsoring a turkey giveaway in his hometown of Augusta. More than 600 people stood in line Wednesday -- some for hours -- to get a free turkey. It was the fifth year of the event.
As the Suwanee Quintet sang gospel tunes, Brown -- decked out in a black leather jacket with stars and stripes down the sleeves -- grabbed the microphone and added his signature screech to applause from the crowd.
"An event like this means giving back to the community," Brown said. "I have grown up with a lot of these people and I have seen a lot of the younger ones grow up. I have much love for the kids."
In Pristina, Yugoslavia, actress Salma Hayek handed out kisses, pictures and autographs to NATO peacekeepers.
The actress made a holiday goodwill visit to peacekeepers, signing T-shirts and posing for pictures with dozens of soldiers from the United States, Germany and France.
"I've kissed thousands of soldiers today," she said. "It's not a bad job."
Back in the States, "Friends" star David Schwimmer visited a shelter to help serve free meals to the hungry and homeless Wednesday during an annual day-before-Thanksgiving feast.
"I've been wanting to help out like this for a few years," said Schwimmer as he dished up mashed potatoes. "But this is the first time I've been able to with my schedule."