Sexy Salma finds Western living just lovely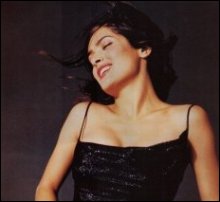 Sunday June 27, 1999
By LOUIS B. HOBSON -- Calgary Sun
HOLLYWOOD -- There's only one thing that frightens Salma Hayek and it's not Hollywood producers. "I have arachnophobia. I hate the little things," admits Hayek, shuddering at the very thought of her personal eight-legged nightmare. Hayek teamed up with a bunch of hairy spiders to film Will Smith's music video for the big, summer special-effects comedy Wild Wild West, which opens Wednesday. So what would have possessed Hayek to allow a spider wrangler from Kenya to plop 20 tarantulas all over her body? "Will Smith. I'd do anything for Will. He fought for me to be in Wild Wild West when no one else wanted me. No one but Will could have gotten me to lie down with spiders."
Smith met Hayek briefly backstage at the 1996 MTV awards. When he read that his leading lady in Wild Wild West was named Rita Escobar, he told director Barry Sonnenfeld to offer the role to Hayek. "I had to audition for Barry three times. He didn't want me and I don't think the studio (Warner Bros.) did either," recalls Hayek. Sonnenfeld admits he was reluctant to cast Hayek. "Of course, Salma looks the part but I didn't think she could talk fast enough to carry off the comedy. I kept trying to explain this to Will but he wouldn't budge. He told me to cast her and then teach her to talk faster." Without Smith as her champion, Hayek would have lost another role because a director, producer or studio mogul didn't like her voice. "The biggest obstacle for Latino actors in Hollywood is the voice and the accent. In the nine years I've been in Hollywood, it's never been about how I look. The moment I open my mouth, the problems begin. Speaking English is the toughest thing I have to do every day of my life in Hollywood." Hayek was 22 when she arrived in Los Angeles. She could barely speak a word of English and no one knew who she was. Back in Mexico, it was a different case entirely. Playing the title role in the soap opera Teresa had turned Hayek into a major television star. She was mobbed wherever she went. Hayek was 18 years old when she auditioned for her role in Teresa. She had never acted before. "People told me I had chemistry with the camera. They say the camera loved me and that made it easy for audiences to love me too." Hayek is quick to explain that being photogenic can be a curse. "Being a star has nothing to do with being a good actress. I became a star overnight but what I really wanted to be was a respected actress.
"I knew that was impossible in Mexico. I had to go somewhere where I had to prove myself and to learn and fail. That's why I gave up stardom in Mexico for obscurity in America." For two years, Hayek struggled just to get cameo roles on such TV series as The Sinbad Show. Her big break came when Robert Rodriguez cast her as Antonio Banderas's love interest in Desperado. The film portrayed her as a seductress. "I don't see anywhere in the Bible where it says you can't do movies where you kiss the guy and take your clothes off, especially if it's with Antonio Banderas," explains Hayek who was raised a Catholic. Though she has lost roles that meant a great deal to her, Hayek has been working steadily in such films as 54, From Dusk Till Dawn, Fled, The Faculty and the made-for-TV version of The Hunchback.
"It's been a series of little steps here in America, not the giant leap I made in Mexico." British actor Edward Atterton, who was Hayek's leading man in The Hunchback, became her real-life leading man. "It's been a really great relationship for three years. The Catholic Church might consider we're living in sin, but it's pure bliss." Hayek is currently in Vancouver filming Shiny New Enemies, in which she plays a policewoman who is searching for some rare coins. In September, she is set to begin filming Frida, a biography of Mexican artist Frida Kahlo. Both Madonna and Laura San Giacomo were touted for the role, but for now it belongs to Hayek. "I think the industry is finally beginning to take notice of me. Being in Wild Wild West will help even more because so many people will see it this summer. "The more visibility you get in Hollywood, the more power you have." Hayek is not exactly sitting back waiting for her phone to ring. She's making the calls. She has formed her own production company which has begun producing TV shows for both English and Spanish networks as well as feature films such as The Velocity of Gary, an edgy story of a bisexual love triangle. "I'm 31 years old and I'm very happy. I'm at a place in my career where if Hollywood doesn't give me the roles I want, I can create them for myself."