Salma Hayek: Driven By Instinct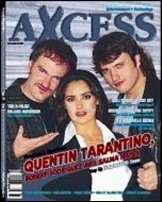 Interviewer: Rod Dovletian

Magazine: Axcess Magazine Vol. IV No. 1 February/March 1996
As Carolina, the tempestuous love interest opposite Antonio Banderas in last year's Desperado, and now as From Dusk Till Dawn's wet nightmare Satanico Pandemonium, Salma Hayek is proof positive that there's still room in today's Hollywood for an actress who's smart, sexy and driven to succeed. Born in Coastzacoalcos, Mexico, Salma studied International Relations in Mexico City before deciding on an acting career. "I always wanted to be an actress ever since I was a little girl, but later I tried to convince myself that's not what I wanted. That I wanted to settle down with a stable career. That's what everybody else was doing, and it's what my parents expected of me. So, I tried to put that part of me away. but, I couldn't fool myself."

At first, Salma's new career was derided by both her friends and family. "When I finally decided to leave school and pursue acting, my parents didn't take it very lightly," Salma says uneasily, as if she were about to get grounded for being out past curfew. "My friends thought that it was the tackiest thing they'd ever heard of. Acting was really beneath them. They couldn't believe that I would want to become an actress." She smiles, adding, "Not now, of course."

With her breakthrough performance in Desperado, the doors of Hollywood's major studios opened up to Salma , but she remains committed to doing quality work instead of merely chasing the big paycheck. "After Desperado, I had the chance to do bigger, studio films," she admits. "But I didn't find any scripts that intrigued me more than my next film, Breaking Up. There's only two characters in the whole film: Russell Crowe (Virtuosity) and myself in a comedy about love. . .and sadness. It's funny and sad at the same time. Just like life."

I ask if she has a formula for selecting new projects. "I don't have a formula. I have instincts," she states matter-of-factly. "When I was in Mexico, I had a good, stable acting career going. I had a very comfortable life. But I also had my instincts telling me to move on, to get out of here. Even though I had to start from the ground floor all over again in L.A., it was the right thing for me."

Ironically, a subsequent return to Mexico might just lead Salma to this year's Oscars. "I went back to Mexico last year to do Midaq Alley, a film that has now been selected to represent Mexico at the Academy Awards this year. That was another example of doing something I believed in that paid off in the final result. I follow my instincts. They've never betrayed me."

Except in one department: "My instincts are a little off when it comes to love," Salma confesses. "I've gotten my heart broken a couple of times, so I'm a little leery of love. Either I pick guys that are wrong for me, or the right guy at the wrong time. Maybe I'm cursed!" She shrieks, throwing her hands in the air.

Sorcery aside, Salma admits that real success, in both her personal and professional life, comes from within. "It's got a lot to do with listening, to yourself and to who you are," she confides, "instead of just what you want. That applies to both love and career, because sometimes people want something for the wrong reasons. Out of ego, out of competition, out of revenge. That's not who you really are. You've got to know how to trust yourself."